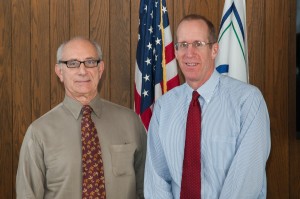 Scott Howard, chief operating officer of Bemis Associates, has been reappointed to the Mount Wachusett Community College Board of Trustees by Governor Deval Patrick.
Mr. Howard, who initially joined the board in 2009, was sworn in for a new term during a brief ceremony at the college on January 22. In addition to his service at MWCC, Mr. Howard serves on the board of directors for Fidelity Bank and served for many years on the United Way of North Central Massachusetts board of directors, including as past chair.
"Mr. Howard is a remarkable civic and corporate leader," said MWCC President Daniel M. Asquino. "His expertise in economic development and his commitment to community service are assets to Mount Wachusett Community College and our students, and we are delighted with his reappointment."
Through the leadership of the Howard family, Bemis Associates and its employees are known for instilling a company-wide philanthropic spirit, President Asquino said. Bemis, based in Shirley, is a global manufacturer of adhesives, coatings and specialty films used in the apparel, automotive and woodworking industries. The company has been owned by the Howard family since 1930 and its products are used in a wide variety of name-brand merchandise.
Mr. Howard joined the family business in 1985. He and his wife, Betsy, live in Littleton and are the parents of three children. In addition to serving as a trustee for MWCC, Mr. Howard previously served on the United Way Board of Directors for more than a decade and is a past chairman of the board. He currently serves on the board of directors for Fidelity Bank.