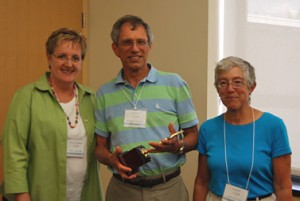 Philip DeCharles, an accounting tutor at MWCC and an alumnus of the college's first graduating class, is a recipient of one of the first two Diane J. Goldsmith Awards for Excellence in eTutoring presented by the Connecticut Distance Learning Consortium.
Carolyn Rogers, director of Academic Services for the Connecticut Distance Learning Consortium and Director of the eTutoring.org program, presented the Outstanding Tutor Award to Mr. DeCharles during the organization's annual eTutoring Workshop, recently held at Manchester Community College in Manchester, Conn. the Outstanding Administrator Award was presented to Dr. James Gentile of Manchester Community College.
The Diane J. Goldsmith Award provides the eTutoring community with an opportunity to recognize outstanding tutors and eTutoring coordinators who have had a significant impact on the development and/or delivery of tutoring across the entire eTutoring community.
At MWCC, Mr. DeCharles has been an exceptional tutor whose contributions to the eTutoring process can be seen in the way he works with students. His approach to learning, coupled with the numerous resources he has created on his own time, help to create a positive learning environment for students. He also took part in MWCC's eTutoring marketing campaign, meeting with students and conducting live demonstrations of eTutoring for two days during the college's open house. A member of MWCC's class of 1966, Mr. DeCharles is a longserving member of the college's Alumni Association and also served as the association's president for many years.
eTutoring started in 2001 when the CTDLC received a grant to create an online tutoring initiative with two-year and four-year public, and private institutions. The leader of this effort, CTDLC's Executive Director, Emeritus, Dr. Diane J. Goldsmith, wrote the successful grant that provided funding from the Davis Education Foundation. Dr. Goldsmith led this unique and diverse community of professionals to explore how they might best address the student support needs of the burgeoning community of online students. The result is a multi-consortia, multi-institution community of practice that is delivering collaborative online tutoring services across more than 130 campuses internationally.