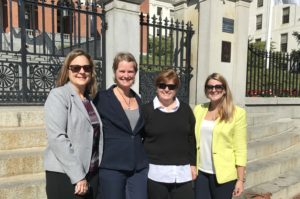 Earlier this week, Certified Veterinary Technician and the Department Chair and Assistant Professor for the Veterinary Technology program at Mount Wachusett Community College Alexandra McNamara traveled to the Massachusetts State House to speak in front of the Consumer Protection and Professional Licensure Committee in favor of a bill to establish licensure requirements for Veterinary Technicians in Massachusetts.
"Presently, in Massachusetts, any person can be named a veterinary technician, regardless of their education and background. Pet owners trust their pets' lives are in capable hands, and most are completely unaware of the fact that the person working on their pet may have no prior experience with animals," McNamara said in her written testimony to the committee.
House Bill 159 offers a chance for pet owners across Massachusetts to receive a level of protection for their pets that is higher than what is currently available, she told the committee on Tuesday. The Veterinary Technician is the registered nurse of the veterinary sciences. By requiring veterinary technicians to attend an American Veterinary Medical Association accredited program, and pass the Veterinary Technician National Exam, pet and vet clinic owners can be confident technicians are providing top-notch care and practicing appropriate safety measures in doing so, McNamara said.
While the bill includes a grace period to allow current technicians to take the test without getting the degree, there would be more people looking to get their degree moving forward if the legislation passes. The schools of Massachusetts are ready to step up to meet the educational demand that would be created, according to McNamara.
"I am happy to report that the cost of a Veterinary Technician Associate's degree is coming down considerably thanks to the efforts of higher education institutions and high schools across Massachusetts. At Mount Wachusett Community College, we are in the process of building an American Veterinary Medical Association accredited program, offering students an affordable option for an exceptional education," she testified. "At just over $8,700 a year, the program offers the ability to be completed for tens of thousands of dollars less than a Veterinary Technician program at a private four-year college."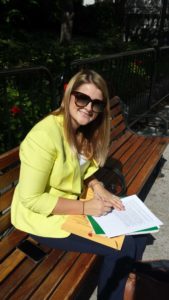 The college is also partnering with Chapter 74 technical high schools, such as Montachusett Regional Vocational Technical School, Worcester Technical High School, and Nashoba Technical High School, to create an educational pipeline for their Veterinary Assistant students into the Veterinary Technology program at MWCC. Passing this bill will ultimately benefit both private and community collegiate institutions by supplying more potential students to their programs, McNamara told the committee.
"House Bill 159 will build state revenue and eventually produce more opportunities for studying veterinary technicians," McNamara said.
MWCC's new program will begin in February at the college with a curriculum designed by McNamara. The two year Associate's Degree program will allow students to gain all the knowledge they need to take the Veterinary Technician National Exam test. Students passing that test will be able to fill the important role of Veterinary Technician.