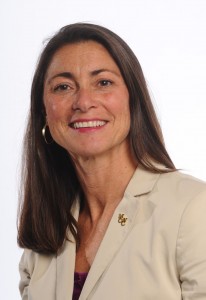 MWCC Vice President of Marketing and Communications Robin A. Duncan has been recognized with the national 2013 Communicator of the Year Award by the National Council for Marketing & Public Relations.
Duncan, who was named NCMPR District 1 Communicator of the Year last fall, was selected for the top national award from among the organization's seven district award recipients. The Communicator of the Year Award honors a two-year college marketing professional who has demonstrated leadership and ability in college communications.
The award was presented March 11 during NCMPR's national conference in Chicago. In addition, MWCC's Marketing & Communications division received a gold NCMPR Paragon Award the direct mail category and a silver Paragon Award in the student handbook category. An affiliate of the American Association of Community Colleges, the NCMPR is the only organization of its kind that exclusively represents communications professionals at community and technical colleges.
Duncan and MWCC Marketing Director Alexa Poulin also served as conference presenters on the topics of marketing measurements and return on investment; building, executing and measuring an integrated recruitment marketing plan; and incorporating public relations measurements into the marketing mix. 
"Robin is a highly motivated professional who works diligently with her team to consistently deliver a positive and impactful message in support of the important work that occurs at our college," said MWCC President Daniel M. Asquino.
"It truly is an honor to receive this award in recognition of the work we are doing at MWCC," Duncan said. "I'm proud to be working with a talented group of people who are helping the college change the paradigm in the way in which we market and target our audiences. It's important that our projects look good, but it's even more important that we are measuring the outcomes to ensure our initiatives are actually working for us. I'm proud that we work toward that end every day."
She was recognized by NCMPR as a "change-maker" who accomplishes goals by employing a big-picture vision of integrated, strategic, and results-driven marketing. Under her leadership at MWCC, blogging, tweeting, Facebook and online advertising have become key components in the communications mix, along with consistent, coverage in traditional media, a monthly radio program, and many other initiatives.
This past year, she led a system-wide analysis of the marketing and communications at the college, engaging staff, faculty, students, and the greater community, which led to systemic changes, including rebranding the college, the redesign of the college's website, and incorporating analytics to more effectively measure the return on marketing investment.
Duncan holds a bachelor's degree in marketing management from the State University of New York and a master's degree in business administration from Anna Maria College. Among her community activities, she serves on the board of the Boys and Girls Club of Fitchburg and Leominster.
She and her staff have made marketing and communications presentations and webinars at the local and national levels and previously coordinated the NCMPR District 1 Medallion Awards for two years. In addition, Duncan has contributed to NCMPR's blog and Counsel magazine.