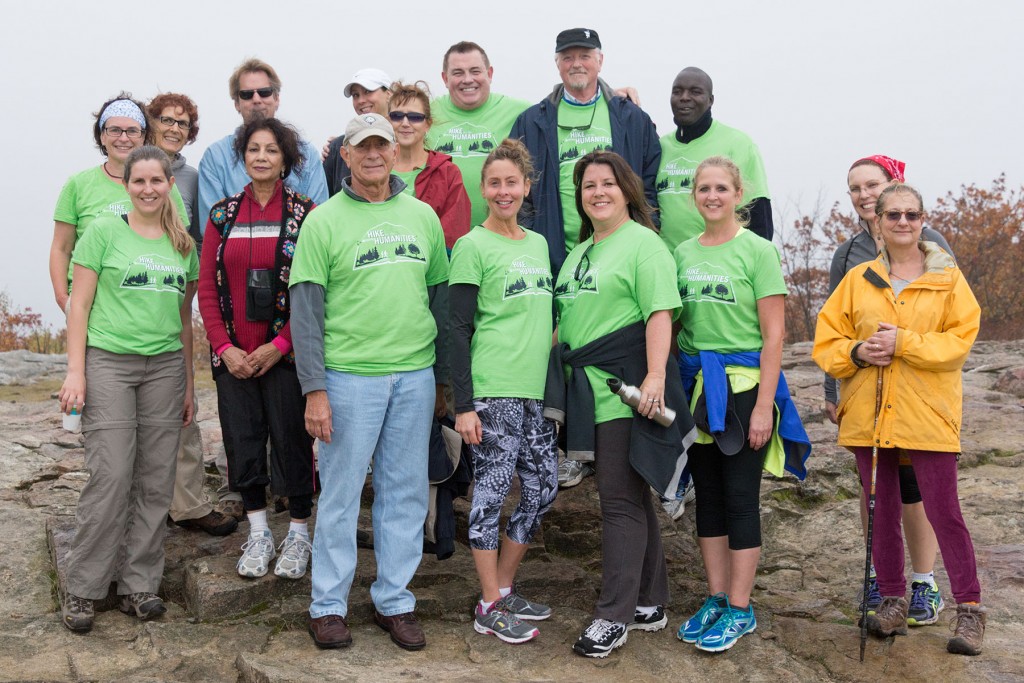 With President Daniel M. Asquino leading the way to the summit of Wachusett Mountain, Mount Wachusett Community College began an annual tradition on the mild morning of Saturday, Oct. 18.
In the first "Hike for the Humanities" fundraiser, a group of MWCC faculty, staff and alumni simulated Henry David Thoreau's 1842 hike of Wachusett Mountain, collectively raising over $5,000 for the college's Humanities Project.
Under the leadership of English Professor Michelle Valois and Director of Grant Development Heather Layton, MWCC received a $500,000 National Endowment for the Humanities (NEH) challenge grant to strengthen its humanities curriculum through the interdisciplinary project. The first-year theme, "East Meets West in a Cabin in the Woods: Walden and Beyond," based on Thoreau's 1854 classic, is being integrated into MWCC courses and community events.
"This is a great day for our college. The turnout speaks volumes about the commitment of our faculty and staff, who were more than willing to support a good cause and a singular purpose," said President Asquino, the first to complete the five-mile Pine Hill Trail. "We plan to hold this fundraising hike annually for the duration of the Humanities Project to support continued enrichment opportunities for our students and members of the community."
As the NEH will match all funds raised by 50 percent, MWCC will receive an additional $2,500, adding to its previous total of $225,000.
"The fundraising aspect is important, but this hike goes beyond supporting the Humanities Project," said Valois, who coordinated the event and initially proposed hiking Wachusett Mountain. "Just as important is the opportunity to build morale among faculty from multiple academic disciplines in a natural and extended-office setting. We very much wanted to capture the spirit of Thoreau, and of course everyone loves to hike."
"We pursued an NEH grant to engage faculty, staff and students, and this hike, coupled with the four other events to this point, has been exactly what we envisioned," said Layton. "Through this event to jump-start the Humanities Project, we also hope to communicate to donors that our own staff is thoroughly invested in this initiative."
Thoreau was selected as the initial focus of the Humanities Project due in part to his affinity for Wachusett Mountain, which he developed through a noteworthy 1842 expedition. Thoreau and his companion, Richard Fuller, walked 34 miles from Concord to the mountain's summit, moving him to pen the essay "A Walk to Wachusett."
As MWCC continues its slate of free community events, professors from the disciplines of English, biology, business administration, nursing, sociology, graphic design, early childhood education, photography and math are engaging students in Thoreau-themed activities.
Echoing some of Valois' sentiments, Associate Professor of Math Festus Kiprono said faculty participants in the hike are simultaneously supporting a "very worthy cause" and promoting "camaraderie and togetherness" across several academic disciplines.
"As a math professor, I felt it was important to participate because this is an interdisciplinary project that helps us provide students with a well-rounded education." Having scaled Mount Monadnock several times, Kiprono also recognized the hike for its fitness benefits.
Beginning next week, the MWCC Humanities project continues with five additional events during the fall semester. These events include two book discussions of Thoreau-inspired books, a performance by a Thoreau re-enactor, lecture by the executive director of the Thoreau Society, and final student presentations and exhibits.
For a full schedule of events, visit https://mwcc.edu/humanitiesproject.
– Cameron Woodcock