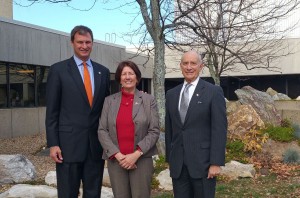 Mount Wachusett Community College and the Worcester County Sheriff's Office are launching a prison education program to prepare inmates for college entry and the workforce.
The grant-funded Bridges to College program will provide education and workforce training opportunities to 100 inmates at the Worcester County Jail and House of Corrections in West Boylston. The program's goal is to lower recidivism rates by providing ex-offenders with skills needed to enter college, as well as the field of advanced manufacturing.
The Massachusetts Department of Higher Education recently awarded a $79,000 grant to MWCC to create the program, which expands upon existing Adult Basic Education, English as a Second Language, Life Skills, and HISET programs currently offered by the WCSO, and builds upon the college's successful advanced manufacturing industrial readiness training and adult Educational Opportunity Center (EOC) programs.
Inmates who are between six months to 2.5 years from release, who have a high school credential for college entry upon release, are eligible to participate. Participants are currently being identified for courses that will be held at the correctional facility beginning in January.
"Beyond first addressing the issue of substance abuse with our inmates, nothing is more important than providing educational and vocational training to prepare them for employment and a productive life upon their release," said Worcester County Sheriff Lew Evangelidis. "Our Bridges to College partnership with Mount Wachusett Community College will help us double down on those efforts. Providing postsecondary correctional education as well as workforce training is the most effective path to reducing recidivism and keeping ex-offenders from returning to prison."
"The power of education to transform lives cannot be underestimated," said MWCC President Daniel M. Asquino. "This program offers an opportunity for new beginnings."
According to national studies, the recidivism rate for ex-offenders who participate in postsecondary correctional education is an average 46 percent lower than for those who have not taken college classes.
The Bridges to College program will be offer activities that prepare students for college placement testing and applying for college admissions and financial aid, as well as tutoring, mentoring, financial literacy, and career and academic guidance. They'll also receive advanced manufacturing industrial readiness training, which embeds contextualized academic remediation instruction in reading, writing and math, and is complemented by college preparation, financial aid/literacy and career workshops and counseling.