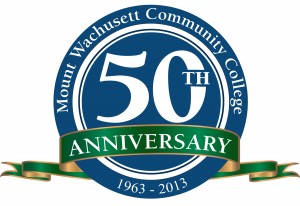 Mount Wachusett Community College has received a bronze Excellence Award from the Council for the Advancement and Support of Education (CASE), District 1 in the Year-Long Special Events category for the multi-faceted 50th Anniversary celebration throughout 2013.
The award was presented to the college during the District 1 awards celebration on January 29 in Boston.
MWCC celebrated its golden anniversary with a series of special events, publications and marketing collateral geared toward the college community, alumni, benefactors and the general public. Events included concerts, a Free College Day for the public, art exhibitions, theatre productions and a Harvest Ball fundraiser for scholarships. Advertising, publicity, social media, photography and graphic design projects, a 50th anniversary website and commemorative publications were among the communications components used to tell the story of MWCC's past, present and future.
CASE is an international professional association serving educational institutions and the advancement professionals who work on their behalf in alumni relations, communications, development, marketing and allied areas. CASE helps its members build stronger relationships with their alumni and donors, raise funds for campus projects, produce recruitment materials, market their institutions to prospective students, diversify the profession, and foster public support of education.
Each year, CASE District 1 bestows its Excellence Awards on individuals and schools doing innovative work in the subfields of special events, fundraising, stewardship, volunteer engagement, alumni relations, student alumni initiatives, advancement services and communications.