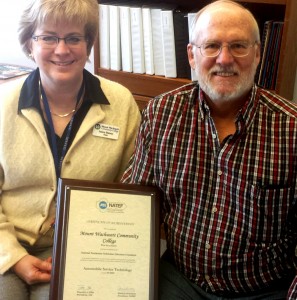 Mount Wachusett Community College's Automotive Technology programs have received continued accreditation from the National Automotive Technicians Education Foundation in the areas of instruction, course of study, facilities and equipment, and has met the standards of quality for the training of automobile technicians.
MWCC offers an automotive technology academic certificate and an associate degree to prepare graduates for positions in transportation-related industries. Professor Peter Kaufmann was the program's first instructor when it launched in 1979 and is now the program chair.
"We are so grateful to Peter for his many years of dedicated service, which have benefited all of our students in the Auto Technology program," said Janice Barney, Dean of the School of Business, Science and Technology and Mathematics.