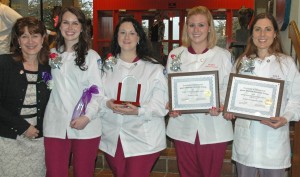 Following extensive planning and support from the North Central Massachusetts dental community, Mount Wachusett Community College launched its dental education programs in 2005 in Fitchburg. To mark the 10 year anniversary and the programs' recent relocation to the Fitchburg Family Community Health Center, MWCC invites area dentists, alumni and program supporters to a celebration on Thursday, Jan. 22 from 4:30 to 6:30 at the new program site.
MWCC's full-time dental hygiene program and part-time, evening dental assistant program are housed within the Community Health Connections' newly opened, $20 million Fitchburg Family Community Health Center, located at 326 Nichols Road and adjacent to the original site at Health Alliance Hospital, Burbank campus. The relocation continues a long-standing partnership between MWCC and CHC that enables students to work with dentists and patients.
The event will include a reception, tours of the new facility, student presentations and refreshments. The celebration also will mark the retirement of Program Director Anne Malkasian and appointment of the program's new coordinator, Professor Cynthia Cadoret.
"Our dental education programs were created in collaboration with the dental and medical community to address a specific need for trained dental professionals in our region, as well as provide care for area residents who otherwise would not have access to dental care," said MWCC President Daniel M. Asquino. "We are delighted with the success of these programs, the success of our graduates and current students, and the success of this ongoing community partnership. Many in our community were involved with making this happen, and we look forward to celebrating this milestone with them."
Reservations to the free event are requested and can be made by contacting Anne Malkasian at amalkasian@mwcc.mass.edu. In case of inclement weather, the snow date is Tuesday, Jan. 27.