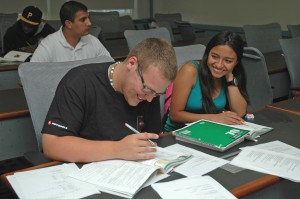 MWCC has been awarded a five year, $1.3 million grant from the U.S. Department of Education to fund the North Central Massachusetts Upward Bound Math and Science Program. This marks MWCC's sixth year of operating this program, which prepares 63 high school students from Gardner, Athol, and Winchendon for success in high school and college in the fields of math and science.
"We are delighted to receive this funding and the support of our Congressional delegation to continue this outstanding program," said President Daniel M. Asquino. "The Upward Bound Math and Science program provides talented students with greater opportunities to hone their skills in the essential STEM fields."
The UBMS program will provide a comprehensive academic year, summer and bridge program during the five year period that is customized to the needs of each participant. On Saturdays and school vacations during the academic year, all students will participate in college tours; monthly science, technology, engineering, and math (STEM) based cultural/academic enrichment opportunities; hands-on laboratory STEM activities; STEM based field trips; lectures and other activities. The students also receive individual success plan development and follow-up meetings by trained UBMS academic counselors and program aides; secondary school course selection advising; after-school tutoring, guidance and assistance; alternative education programs; parent/guardian workshops; e-mentoring; workshops and more.
Freshmen and sophomores also will have access to state-mandated test preparation and a career fair and roundtable, while juniors and seniors also have access to dual enrollment courses, SAT and ACT preparation, Accuplacer preparation, a college fair, college admission assistance, financial aid assistance, and postsecondary course selection advising.
In the summer, students will participate in a six-week residential program on a college campus that simulates a college going experience, while having the opportunity to take courses in a variety of subjects. Juniors and seniors have the option of earning dual enrollment college credit.