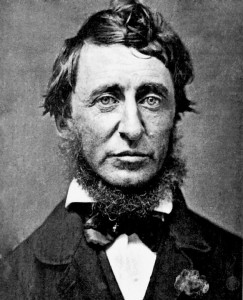 MWCC's Humanities Project, East Meets West in a Cabin in Concord: Walden and Beyond, continues during the spring semester with several community book discussions and a poetry reading. The events, inspired by Henry David Thoreau's Walden, are free and open to the public.
A discussion on Cal Armistead's "Being Henry David," will take place Wednesday, Feb. 11 from 6:30 to 8 p.m. at the Gardner campus. In Armistead's debut novel about a teen in search of himself, 17-year-old "Hank" lands at Penn Station in New York City with no memory of anything – who he is, where he came from or why he's running away. His only possession is a worn copy of Walden by Henry David Thoreau. And so he becomes Henry David – or "Hank" – and takes first to the streets, and then to the only destination he can think of – Walden Pond in Concord, Mass. As Hank begins to piece together recollections from his past, he realizes that the only way he can discover his present is to face up to the realities of his grievous memories.
A book discussion on Jane Langton's mystery, "The Transcendental Murder," will take place Thursday, March 5 from 6:30 to 8 p.m. at the Leominster Public Library. In this first Homer Kelly mystery, Langton takes readers to Concord, where a manuscript that may or may not have been written by Thoreau is at the center of a mysterious murder.
"American Primitive," Mary Oliver's Pulitzer Prize-winning collection of poetry, will be the topic of a book discussion Thursday, March 26 from 6:30 to 8 p.m. at the Fitchburg Public Library. This collection of 50 poems offers readers a lesson in stillness and observation. Called "an indefatigable guide to the natural world," Oliver's book keeps alive the tradition that Thoreau began a century and a half earlier.
A poetry reading with Gail Thomas, author of "No Simple Wilderness: An Elegy for Swift River Valley," will take place Wednesday, April 15 from 6:30 to 8 p.m. at the Athol Public Library. Thomas's collection of poems recreates with grace and dignity the voices of the men and women of the Swift River Valley who were displaced when the Quabbin Reservoir was created. What would Thoreau have said about this reclaiming of the natural world at the expense of community and individual autonomy?
Funded by a Challenge Grant from the National Endowment for the Humanities, the MWCC Humanities Project is an ongoing initiative designed to strengthen the college's humanities curriculum, support collaborative and interdisciplinary teaching and research in the humanities, examine the intersection between the humanities and other academic disciplines, and engage MWCC and the community in the discussion of enduring themes from the world's many cultures and traditions. For more information, visit https://mwcc.edu/humanitiesproject.