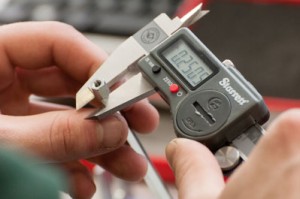 Mount Wachusett Community College will celebrate the third annual National Manufacturing Day on Oct. 2 with a free event featuring demonstrations, guest speakers and tours of the college's Manufacturing Workforce Certification Center and Devens campus.
Manufacturing Day was established in 2012 to help change public perception of manufacturing and underscore the shortage of skilled workers in Massachusetts and in the country. MWCC's celebration provides an opportunity for the public to learn about Massachusetts manufacturing initiatives involving the college's business partners, as well as view and participate in demonstrations showcasing current and upcoming programs.
The event begins at 8:30 a.m. with registration and a light breakfast, followed by welcoming remarks from MWCC President Daniel M. Asquino and a presentation of manufacturing partnerships awards by Jacqueline Belrose, MWCC Vice President of Lifelong Learning and Workforce Development, and Dennis Bunnell, chair of the college's Advanced Manufacturing Advisory Board.
Featured speakers include Thatcher Kezer, MassDevelopment's senior vice president of Devens, and State Representative Susannah Whipps-Lee. Demonstrations from 10:30 to noon will include CAD design & 3-D printing, mechatronics, a manufacturing aptitude challenge, biotechnology and quality. Information about MWCC's manufacturing training programs and admissions will also be available.
Serving as a networking and informational event, the expo brings together industry representatives and job seekers. Attendees can tour the manufacturing and skills-training labs and participate in hands-on exercises and individual information sessions. The event is being sponsored, in part, through a Trade Adjustment Assistance Community College and Career Training (TAACCCT III) grant from the U.S. Department of Labor.
"We are proud to once again sponsor an event in recognition of National Manufacturing Day to raise awareness about the job opportunities available in North Central Massachusetts and the industry partnerships that actively work to close the gap between trained workers and employer needs," said President Daniel M. Asquino.
MWCC offers a variety of credit and noncredit STEM programs at its Devens campus, including the Advanced Manufacturing Industry Readiness Training program, Quality Systems Training, the Analytical Laboratory & Quality Systems and Mechatronics certificate programs, and associate degree and academic certificate programs in biotechnology/biomanufacturing.
To register, call the Devens campus at 978-630-9569 or email devens2@mwcc.mass.edu.