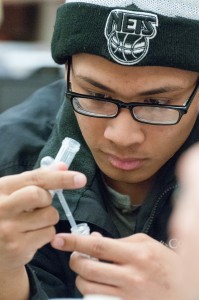 Aspiring scientists, engineers and mathematicians interested in high tech careers discovered a host of options during Mount Wachusett Community College's second annual STEM Awareness Day on March 6.
The event featured a variety of hands-on demonstrations ranging from trying out equipment used in 3D printing to creating a necklace containing one's own DNA, as well information on various academic careers, financial aid and transfer options. It also showcased MWCC's upcoming STEM Starter Academy and STEM SET scholarship program.
The college is currently recruiting students for its STEM (Science, Technology, Engineering and Math) Starter Summer Academy. Participating students will receive two free college courses, textbooks, up to $1,750 in stipends, academic support and tutoring, and will attend industry field trips and MWCC's Summer Leadership Academy.
"We are excited to once again offer the STEM Starter Academy to local learners pursuing a degree in STEM fields," said Veronica Guay, Assistant Dean of the School of Business, Science, Technology and Mathematics. "Summer participants will enter the fall semester with seven college credits, money in their pockets and be well on their way to obtaining their degree."
Funded by a grant from the Massachusetts Department of Higher Education and the Department of Economic and Workforce Development, the program aims to inform, engage, recruit, retain and graduate significantly more students and enhance their success in STEM pathway programs that lead to job placements or transfer to higher level STEM academic programs.
The summer program will run July 7 through Aug. 20 from 9 a.m. to 3 p.m., as well as August 25 and 26, at the Gardner campus.
Funded through a $150,000 grant, the summer academy is open to recent high school graduates and adult learners who place into English Composition and Intermediate Algebra or higher, and enroll in one of MWCC's STEM programs in the fall 2015 semester.
Qualifying STEM majors include biology, biotechnology, chemistry, clinical laboratory science, computer information systems fitness leadership and exercise science, natural resources, general studies allied health, physics or pre-engineering.
In addition, STEM majors at MWCC may qualify for an annual $3,300 STEM SET scholarship, available through a grant the college received from the National Science Foundation.
For more information about the STEM Starter Academy at MWCC, visit https://mwcc.edu/takeiton or contact the admissions office at 978-630-9110 or admissions@mwcc.mass.edu.