By Naomi Kiarie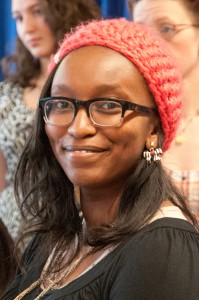 I have spent most of my life volunteering in various activities in church and school. I haven't been able to do as much these last couple of years because I was trying to get my prerequisites in for nursing. And then nursing school started, and I didn't have a lot of time to do much else. But I started thinking about doing an alternative spring break after hearing about a niece of my mom's friend that goes every year to Louisiana to help rebuild after Katrina.
When I Googled "alternative spring break," I happened upon this opportunity with MTV and the United Way to help rebuild places affected by Hurricane Sandy. I encouraged my friends (who happen to be in the ALANA club) to apply as soon as the application was available, because it seemed like an excellent opportunity for us to do some good over break. A few weeks later, I got an email telling me I was chosen as one of the 50 students to go to New Jersey this past spring during the week of March 17 to 24.

I did not know what to expect when I got there. I did not know what I would see, or if I would be accepted among the other students because I tend to be very shy around strangers. But as soon as I stepped foot in the hotel and met everyone, I realized that they were friendly and just as nervous as I was for what was awaiting us on Monday. I thought that the brunt of the work had already been done, given that Sandy hit four months prior. I had seen parts of the boardwalk start to rise on TV. But nothing could have prepared us for what my team of 12 witnessed at Union Beach.
From the outside, the homes looked intact. As we went inside, however, we realized that they were shells of themselves. The flooding and wind took out their first floors, stealing away entire living rooms, memories and all. We stood atop the foundation of a house on the beach that was swept completely off its foundation. We were told that the fishing industry would need at least 5 to7 years to return as there is still debris washing up on the beaches.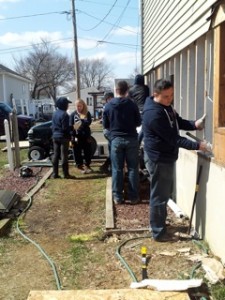 The one thing that kept us going despite the destruction we saw was looking around at everyone who came together to help. MTV was filming at each of our sites to help us advocate for these communities in the area. United Way had partnered with local organizations to find us sites to work on.  I was really intimidated going in the first day because I'm not that well-versed with power tools. But everyone that we came in contact with were all so helpful, and compassionate of our ignorance. They are all selfless people. Our site manager in Union Beach had given up his job as a preacher in Virginia to work full-time building houses for the Churches of Christ. We heard similar stories from other teammates in Rockaway Beach and Staten Island. There are so many kind-hearted people in the area, and they are making do with a very unfair situation.
In the week that we were there, I believe we made such a great impact. My team was able to install subfloor in two houses, and help erect a fence for an elderly couple living by the beach. The 50 of us managed to raise over $1,000 from online donations for a book drive sponsored by Justin Tuck of the New York Giants. One of our teammates from North Carolina, Robert, did such a great job that he was offered a summer job by his site manager.
I feel like we have made a difference in the short time that we were there. People we met were all so grateful that we were giving of our time, and that we had not forgotten about them. Those among our group that were from Jersey began the week in tears at the devastation caused in these communities. At the end of our service, they offered tearful thanks for caring enough to give so much time and effort.
We all went home on Sunday feeling like we were leaving a family reunion. We still communicate on Facebook, and are so excited to go back and help out in the summer. I am also excited to bring people who want to help. The community that you create when you volunteer is exceptional. When you've spent long hours pulling out nails together, you very soon become the best of friends.
Naomi Kiarie is a first-year nursing student at MWCC and newly inducted member in the Phi Theta Kappa honor society. This summer, she plans to participate in the United Way's "Break a Difference" initiative, which is hosting a Summer of Service program in the New York and New Jersey areas focusing on rebuilding after Hurricane Sandy.