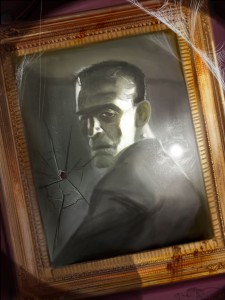 Like many great works of science fiction, Mary Shelley's Frankenstein, or the Modern Prometheus, explores what it means to be human in a rapidly changing world.
Published nearly 200 years ago when Shelley was just 20 years old, the novel's influence extends well beyond the literary domain into film, science and politics, making it an ideal theme for the Mount Wachusett Community College Humanities Project.
Myths, Monsters, and Modern Science: Frankenstein's Legacy has been selected as the second year theme for the MWCC Humanities Project. The project, an interdisciplinary and community study, is funded through a multi-year, matching $500,000 grant from the National Endowment for the Humanities to deepen and sustain quality and humanities programing and curriculum throughout North Central Massachusetts.
The impact of Shelley's 1818 story has prevailed into the modern era, spawning countless interpretations, retellings, and inspirations, yet it bears little resemblance to the Hollywood adaptions that have dominated popular culture for decades, said Professor Michelle Valois, chair of the MWCC's Liberal Arts & Sciences programs and coordinator of the Humanities Project. Frankenstein continues to raise important questions about science and community, family and education.
"If, when you think Frankenstein, you think only of a grotesquely disfigured giant of a man who grunts and groans, then you only know half the story," Valois said. "Mary Shelley's novel – though a work of the imagination – offers an approach to these philosophical and ethical questions: Can science go too far?  What does it mean to play God?  How do we tolerate difference?  Who are the real monsters?  Our world is witnessing rapid scientific and technological advances – how do works of the imagination help society cope with these changes?"
As he becomes obsessed with his experiments, Dr. Frankenstein cuts himself off from his family and friends. In this self-imposed isolation, he brings to life a creature that he can't stand to look upon and which he rejects. "This question of responsibility and control is central to many discussions about the new science that our contemporary society faces in the area of biotechnology and artificial intelligence," Valois said.
Other ideas and themes that the novel explores include the social outcast, nature vs. nurture, the effects of abandonment on children, beauty, good and evil, the limits of science, the responsibility of science, the fact and fiction behind many new scientific and technological developments, rationality vs. intuition, faith vs. reason, and, most of all, the power of a good story to invade our imagination and transform how we see ourselves and our world, Valois said.
During a recent three-day workshop, MWCC faculty from various disciplines met to discuss the tale and its significance today, and plan ways to integrate themes into the curriculum for the upcoming academic year. This cross-college team included attendees from the fields of English, philosophy, sociology, graphic and interactive design, art, computer information systems, biology, biotechnology and natural resources.
Participating faculty and staff members include: Julie Capozzi, Paula Pitkiewicz, Paul Swerzenski, David Wyman, Lara Dowland, Donalyn Schofield, Kathryn Smith, Candace Shivers, Tom Montagno, Kenneth Roy, Shelley Nicholson, Maureen Provost, Wanda Pothier-Hill, Daniel Soucy, Lorie Donahue, Susan Blake, Michelle Paranto, Constance Porter, and Jess Mynes.
Events will include a panel discussion on "Frankenscience – The Myths and Realities of Contemporary Science,"  a Halloween hike for the Humanities at Wachusett Mountain, a book discussion with Elizabeth Young, author of Black Frankenstein: The Making of an American Metaphor, and lectures by visiting professors Sonia Hofkosh of Tufts University, Robert Schwartz of Mount Holyoke College, and Shelley Errington Nicholson of MWCC and Springfield College. 
Films will include Kenneth Branagh's Mary Shelley's Frankenstein, James Whales' 1931 classic Frankenstein with Boris Karloff and  Mel Brooks' Young Frankenstein as well as a monster movie marathon with Fitchburg State University Professor Joe Moser.
The study follows the MWCC Humanities Project first-year theme, East Meets West in a Cabin in Concord: Walden and Beyond, which provided students and the community an opportunity to examine Henry David Thoreau's lasting relevance through lectures, films, and book discussions. During the past academic year, students studied Thoreau's Walden: Or Life in the Woods, not only in English courses, but in science, business, philosophy, art, sociology, graphic design, and history courses as well. MWCC sponsored 12 community events held at the college and at local libraries.