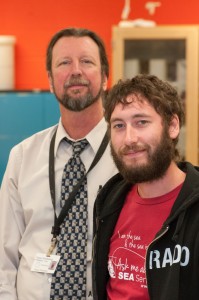 When Nicholas Glendenning was looking for a practicum to complete his associate degree in Natural Resources at Mount Wachusett Community College, he didn't realize a life-changing experience that was about to set sail.
While researching academic opportunities that related to his interest in marine biology, the 26-year-old Leominster resident discovered the Sea Education Association for Environmental Studies in Woods Hole, MA. The SEA Semester, an accredited study abroad program offered by Boston University, is the only full-credit, undergraduate program in the country that combines academic and research curriculum accompanied with a voyage into the ocean.
Glendenning spent six weeks studying aboard the SSV Corwith Cramer, one of the most sophisticated research equipped vessels under sail in the U.S. The experience not only helped him complete his associate degree, but he also earned 17 credits from Boston University toward a bachelor's degree.
Glendenning embarked on his voyage on Oct. 12 and returned Nov. 19. He was among a group of 18 college students and recent high school graduates and 13 crewmembers to investigate the effects of plastic in the ocean ecosystem while acquiring the knowledge to sail a tall ship across the Atlantic.
As a component of the research, net tows were completed twice daily. A large net attached to a jar is towed along the top 25 centimeters of water collecting contents floating on the ocean's surface. The crew separate out the contents, saving and counting the plastic pieces to be brought back the SEA program to be archived for ongoing research.
The students collected data on the effects of plastic in the ocean, and also were responsible for their own research projects. Glendenning investigated oxygen super saturation, and which biological factors cause oxygen levels to spike.
In addition, Glendenning and his colleagues helped provide weather observations to a national database.  They learned to chart the course of the vessel using celestial navigation, and assisted as Junior Watch Officers, taking control of the vessel during various watches.
The vessel and crew went three and a half weeks without seeing land, making an unscheduled stop in Barbados for the captain to fly home to his wife in labor. After he returned, the crew stopped at Bequia in the Grenadines before flying back to Woods Hole from St. Croix.
"There wasn't a lot of free time. We were always busy and constantly on a different sleep schedule, six hours at most. During free time, you were eating, sleeping or working on your project," Glendenning said.
The only things he brought along were clothes and a pillow. Electronics were forbidden, and there was no contact with land. Glendenning and his colleagues updated a student blog on the SEA website noting their current position, weather conditions, and daily activities.
"It was a great life experience. I made lifelong friends and met a new network of people. It opened up a lot of doors for me and I would recommend it to anyone," said Glendenning, who earned his GED through MWCC and now plans to pursue a bachelor's degree in the science field.
After returning from the voyage, Glendenning stopped by to share stories of the experience with Professor Tom Montagno, chair of MWCC's Natural Resources department.
"He's a great student and he's done very well in the program," Montagno said. "The practicum varies widely depending on students' interests. There are lots of opportunities, but he's the first student who has ever done this."
– Chelsea Quinn