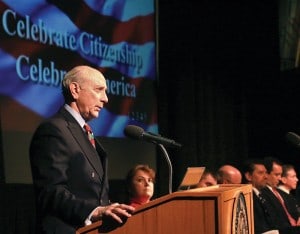 GARDNER — The path to citizenship is being hotly debated around the nation, with some presidential candidates swearing to build walls against illegal immigrants, while others promise not to deport children brought here illegally.
On Wednesday, at their naturalization ceremony, some of America's newest citizens weighed in on the issue, and their feelings were mixed.
Leominster resident Ana Medina, who was brought to the United States as a 5-year-old, sympathizes with undocumented residents.
"It's difficult to deal with on a day-to-day basis," she said. "When I didn't have papers, I would go places and people would look at me strangely. It was hard. So I do feel for (illegal immigrants)."
Belgris Martinez, of Lawrence, agreed.
"Everybody is just trying to survive, to make themselves a better life," Martinez said.
She and 280 other immigrants to the United States were naturalized Wednesday afternoon during a ceremony at Mount Wachusett Community College. Some of the new American citizens were more skeptical of illegal immigration than Medina and Martinez.
Tewksbury resident Magda Nascimento, 39, said the immigration issue is "complicated."
"There's a lot of people that want to be here and to have a better life, and the law won't let them," Nascimento said. "But of course, we have to protect the U.S. Every situation is different, but as far as I know, there are ways to get here legally if you really want to."
So, how hard is it to become a citizen?
Atar Kishon, 25, of Gardner, said the citizenship process was "a lot faster than I thought it would be."
But Kishon's sister was deported last year, and she has a great deal of sympathy for illegal immigrants.
"People that are here illegally, it's not because they want to be here illegally," she said. "It's not due to unwillingness."
Kishon said people like her sister may struggle to find legitimate immigration lawyers, and also may not have the time or money to invest in the naturalization process.
Others said the process was lengthy, but didn't feel it was overly complicated or confusing.
"It's a lot of papers, but it was very straightforward to me," said Nascimento.
Martinez, 20, said the hardest part was the wait after she finished her application.
"I had a long wait," she explained. "Seven months before my naturalization ceremony."
Medina said she also waited more than six months.
"It would be nice if (the immigration office) would communicate more with (applicants)," she said. "It was a long process, but I'm here."
Luis Chaves, director of the Lawrence field office for U.S. Citizenship and Immigration Services, told the new Americans to celebrate their diversity.
"We're all from different countries, cultures and backgrounds," he said, "and that's what makes this country great."
Judge David Hennessey, the U.S. District Court judge who naturalized the group, added, "we all now share a common bond" as citizens.
"I urge each of you to participate in what is now your democracy, your government," Hennessey said.
Mount Wachusett Community College President Daniel Asquino and Gardner Mayor Mark Hawke had similar messages.
"Always be proud of your heritage, but be proud of being a citizen of the U.S.," Hawke said. "Stay involved, be an active citizen."
They, and Chaves, urged the naturalized citizens to vote.
"You could have a say in who is the next president of the United States," Chaves told them. "Don't waste that power."
Many of the new citizens registered to vote during the naturalization ceremony, and said they do plan to exercise their new right.
Now that she's a citizen, Martinez said, she will start looking into the presidential candidates.
So far, she only knows one thing: "I don't want to vote for Trump."
The man who plans to bill Mexico for a border wall, and wants to bar any Muslims from entering the United States, was not popular among recent immigrants.
"I will be ashamed if he becomes president," Nascimento said. "I'm not sure who I'm voting for, but I'm happy that I can vote now, to vote against him."
Kishon said Trump has some strengths he could bring to the presidency, specifically economic strengths, but "I don't think someone against immigration should be a leader of anything governing immigration."
Medina said she may vote in future elections, but would never vote for someone like Trump.
"I've never been for dictators," she said. "I'm for democracy."
For more Sentinel & Enterprise photos and videos, click here
Anna Burgess, Sentinel & Enterprise, March 17, 2016