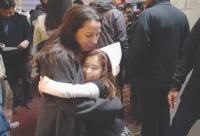 GARDNER — For 250 people, Wednesday marked the first time they were able to call themselves American citizens.
During a naturalization ceremony at Mount Wachusett Community College, 250 permanent residents of Massachusetts were sworn in as citizens of the United States.
Citizenship candidates came to Massachusetts from 62 countries, including Mexico, Haiti, Cambodia, Morocco, Nepal, Germany, Russia and Iraq. Their naturalization ceremony included speeches, patriotic songs, the swearing of an Oath of Allegiance led by United States District Judge Timothy Hillman, and the recitation of the Pledge of Allegiance by the daughter of one new citizen.
All candidates received certificates of citizenship.
Desire Banguendoh, among the 250, said it has been a long journey for him. He grew up in the Central African Republic, but was forced to leave in 2006, after a rebellion led to the killing of thousands of young men like himself. He and his wife and children fled to Chad, where they lived in a refugee camp for five years before a United Nations worker told him he would be eligible to come to the United States as a refugee. His family arrived in the United States on Nov. 4, 2009. They live in Worcester.
All along, Banguendoh said he was "very afraid."
In Chad, he said, "the soldiers are no good, they play with their weapons and shoot them whenever they want.
Here, I have safety. It's a good life here."
He attended the ceremony with his son and his wife, who he said "will maybe become a citizen in a few years."
Omolara Gilman, of Wilmington, was happy to celebrate that both she and her husband are now U.S. citizens. Her husband grew up in the United States, but Gilman is originally from Nigeria.
"My dad worked for Shell when I was growing up, so I moved around a lot," she said. "I've never stayed in one place as long as I've stayed in the US."
Gilman came to Massachusetts in 2005, when she enrolled at UMass Lowell.
When she started school, Gilman said, "I didn't really know where I was going to go" after graduation. During college, though, she met her future husband, and decided to stay in the United States.
Sergui Eigelman, of Bolton, said he has lived in the United States since 2000.
He wanted to become a citizen "to participate in democracy," said Eigelman, originally from the Ukraine.
"Mostly on a local level," he added, "but on a state and national level, too."
Mount Wachusett President Daniel Asquino spoke at the ceremony, as did Gardner Mayor Mark Hawke.
"Personally and professionally, it's an honor to be a part of this ceremony," said Asquino.
Hawke said his grandfather was an immigrant to the United States in the 1940s, and he is "eternally grateful" for the opportunities he was provided by being born a citizen.
"I hope you try to give back to your community and your country," he told candidates.
After they spoke, Hillman administered the Oath of Allegiance to the 250 new citizens.
"You are now citizens of the United States of America," he said.
Francisco Mateo, from the Dominican Republic and now of Fitchburg, participates in the singing of the national anthem during a naturalization ceremony Wednesday at Mount Wachusett Community College in Gardner. Two hundred and fifty candidates became citizens of the United States during the event. SENTINEL & ENTERPRISE / JOHN LOVE "This nation now belongs to you as much as to those who were born here."
Hillman advised new citizens to "work hard, live responsibly, and help preserve the opportunities and the freedoms that so many have fought and died to secure."
Banguendoh, like many immigrants and refugees, is very grateful for the freedom of the United States compared to his former home.
"The discrimination in the C.A.R. is continuing," he said. "When I call my mom and my dad back home, they say I should never come back. I've missed them for 10 years."
Though it's difficult to be away from his family, Banguendoh said he loves living in the United States.
"I'm very happy (today)," he said. "I'm so proud, and I say, 'thank God,' because it's not easy here to move step by step and become a citizen."
His friend and fellow Worcester resident, Augustine Kanjai, came to the United States as a refugee as well, from Sierra Leone. Kanjai was a journalist in his country who was thrown in jail for taking a photo for a story, he said.
"I had to endure a lot," he said. "I was harassed, I was intimidated, and it was not easy for me."
Kanjai and his family are not yet citizens, but they were at the naturalization ceremony to celebrate with Banguendoh.
"This is the citizen we're here for today," Kanjai said proudly, clapping his friend on the back.
"Next year," he added, "it will be me."
By Anna Burgess, aburgess@sentinelandenterprise.com   March 19, 2015