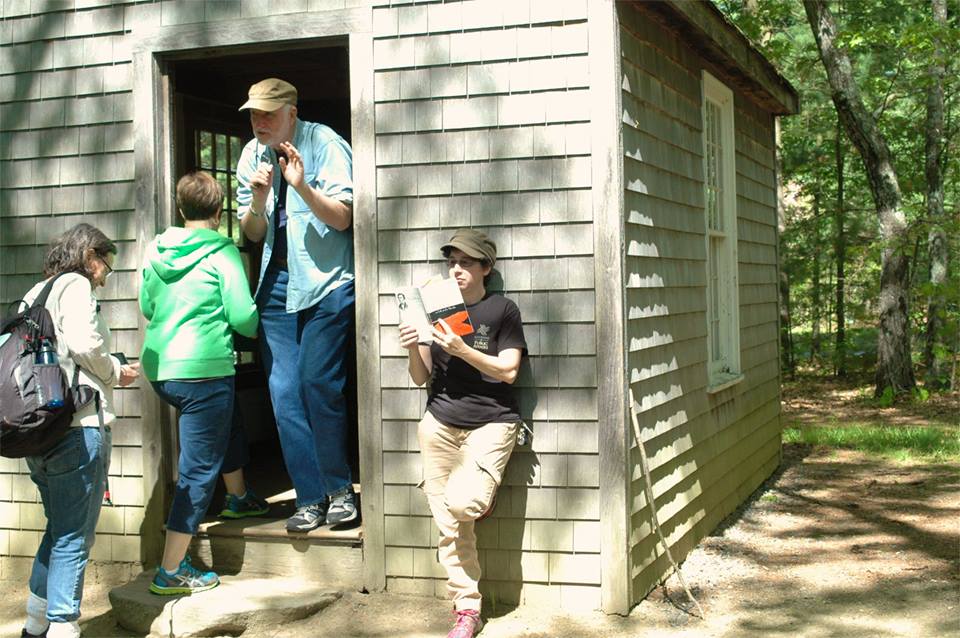 In late May, a group of 30 MWCC educators spent a day walking the trails at Walden Pond in Concord, where 19th century author, philosopher, naturalist and abolitionist Henry David Thoreau lived in a cabin for two years, two months and two days writing his most famous works.
The visit was part of a week-long summer academy to prepare for an upcoming year-long, multi-disciplinary learning project devoted to the author's influence and relevance to students today. In 2013, the National Endowment for the Humanities (NEH) awarded the college a challenge grant of $500,000 to endow the "MWCC Humanities Initiative" to deepen and sustain quality humanities programming and curriculum in North Central Massachusetts. The grant will be matched with funds raised by the MWCC Foundation to endow the initiative over the next six years. Thoreau's Walden or Life in the Woods is at the center of the Humanities Project first year's theme. Other authors and topics will be selected in subsequent years.
"The summer academy was very successful," said English Professor Michelle Valois, chair of the college's General Studies department and coordinator of the NEH grant project. "Faculty had the opportunity to collaborate on teaching and learning and they had the chance to grow intellectually. For some, Thoreau was new ground and they embraced the chance to be a student again. We also explored active learning, developing new ways to engage students in class discussion, and collaborative group work."
Thoreau considered himself as much a scientist as a poet, Valois said. His scientific observations and inquiries are still relevant today and have given rise to the "citizen science" movement. He was also deeply influenced by Eastern religious and philosophical thought at a time when globalization was not a buzzword. And of course, Thoreau, the creator of the modern concept of civil disobedience, provides a perfect vehicle for examining the power and responsibility of the individual citizen in a healthy democracy, she said.
The academy provided guidance and inspiration as participating faculty prepare to integrate Thoreau and his works into cross-college disciplines, including English, biology, business administration, nursing, sociology, graphic design, early childhood education, photography and math.
Guest speakers and faculty participants presented lectures throughout the week. Michael Frederick, executive director of the Thoreau Society, spoke of Thoreau's views of eastern philosophy and non-violence. Thoreau Society board member Susan Gallagher, associate professor in the political science department at UMass, Lowell, presented "Mapping Thoreau Country," which followed Thoreau's extensive travels through New England. Corinne Smith, author of, "Westward I Go Free: Tracing Thoreau's Last Journey," spoke on "Thoreau's Relevance for Today."
Several events, which are free and open to the public, are planned for the upcoming academic year including book discussions, lectures, a presentation by a Thoreau re-enactor, student presentations and a fundraising walk replicating Thoreau's 1842 ascent up Wachusett Mountain, which was described in his  essay, A Walk to Wachusett.
"Wachusett is, in fact, the observatory of the state," Thoreau wrote in his essay.
"That's quite an honor for our little mountain, just as the NEH grant is an honor for our college," Valois said.
 –         Alexander P. Moore