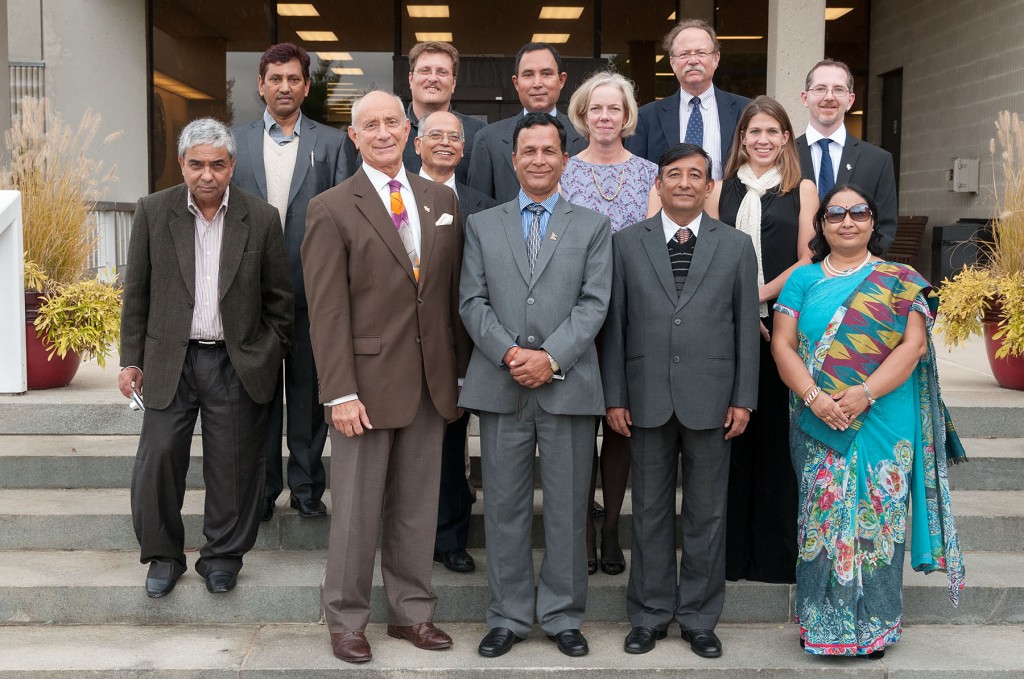 Mount Wachusett Community College welcomed a delegation of six Nepalese educators seeking exposure to the best practices in higher-education administration on a multi-college US tour. Far-Western University in Nepal was established in 2010, and top administrators selected MWCC due in large part to its commitment to sustainability, as well as its applicable educational models and comparable rural setting.
MWCC President Daniel M. Asquino and vice presidents from several campus departments highlighted such topics as modern curriculum building, student services, grading systems and foreign-exchange programs. Following the meeting in MWCC's Murphy Room, administrators from Far-Western University toured the campus and specifically the biomass facility, which converts woodchips into heating and electricity.
"We had a very fruitful discussion with our colleagues from Far-Western University in Nepal today," said President Asquino, who was presented with a Dhaka topi, a popular Nepalese hat.  "We shared thoughts on curriculum teaching and learning. Our students, faculty and staff were able to exchange ideas that will inform the future of both of our institutions."
Representing Far-Western University were Dr. Narad Awasthi, dean of Faculty of Education; Dr. Bhawani Chand, dean of Faculty of Science and Technology; Bharati Joshi, dean of Faculty of Management; Registrar and Professor Hem Raj Pant; Dr. Tek Raj Pant, dean of Faculty of Humanities and Social Sciences; and Controller of Examinations Kumar Thapa.
During their tour, administrators received a thorough overview of MWCC's wind turbines, biomass-heating system and solar-energy systems, all of which will help to inform future sustainability practices at the Nepalese university.
Far-Western University hopes to increase its own conservation efforts in an area where deforestation has become commonplace, said Registrar Raj Pant. Raj Pant also said that the Far-Western campus receives a great deal of wind, and university officials aim to harness this resource and create a similar energy output to that of MWCC.
Based on their guests' additional interests, MWCC leaders explained specific campus departments and services, including Online Learning and the corresponding Massachusetts Colleges Online, Disability Services, Lifelong Learning and Workforce Development and the Visions and Rx Programs.
The International Center of Worcester and Executive Director Royce Anderson coordinated the Massachusetts portion of the trip, which will also include stops at Worcester State and Clark Universities.
– Cameron Woodcock