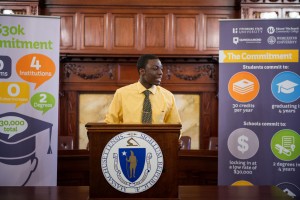 A new collaboration between Central Massachusetts' four institutions of public higher education – Fitchburg State University, Mount Wachusett Community College, Quinsigamond Community College and Worcester State University – will guarantee qualifying students their associate's and bachelor's degrees in high demand programs for $30,000 in four years.
Presidents and representatives from the colleges and universities joined Secretary of Education James Peyser, Commissioner of Higher Education Richard Freeland, Senator Michael Moore, chair of the Joint Committee on Higher Education, and other key officials in announcing the new agreement March 9 at the State House.
The "$30K Commitment," starting this fall, is a promise from the institutions to support the career goals of Massachusetts residents; prepare students for high-demand degrees; and outline clear paths for students to complete affordable associate's and bachelor's degrees in four years. Tuition and fees will be frozen for qualifying students.
According to College Board, the average cost of one year of tuition and fees for a private, four-year college education is $31,000—more than the cost of four years outlined in the $30K Commitment. The average cost of in-state tuition and fees for public institutions is $9,139 a year. The $30K Commitment reduces the cost of a four-year degree program to $7,500 a year.
The commitment aligns degree programs and allows for seamless transfer between the two-year and four-year institutions for programs including business administration, computer science, early childhood education, biotechnology, criminal justice, biology and chemistry. Students who wish to continue their studies beyond the baccalaureate level will benefit from institutions' articulation agreements with other schools. Those heading straight to their careers will be able to capitalize on internship opportunities and professional networks related to the fields of study included in the $30K program.
Participating students will be expected to maintain good academic standing with full-time course loads each semester. In addition to easy transfer opportunities from the community colleges, students will be guaranteed admission to the state university programs outlined in the agreement.
Secretary Peyser called the initaitive a "very important step in the right direction."
"The biggest thing we can do do is make college more affordable," said MWCC President Daniel M. Asquino, noting that the $30K commitment addresses many crucial areas, such as college completion, economic development, innovation and college readiness. "The community colleges and state universities of Central Massachusetts enjoy strong collaborative partnerships, and this agreement – creating opportunities and controlling costs – is evidence of those relationships."
"Equally important…are our partnerships with our K-12 partners, including our dual enrollment work allowing high school students to earn college credit," he said.
MWCC pre-engineering major Louis Ayisi was invited to address the gathering as one of the student speakers. "When I arrived in this country from Ghana 11 months ago, I made the best decision of my life (to enroll at MWCC). For first generation students like me, the sky is not the limit, but the stepping stone," he said.
Fitchburg Schools Superintendent Andre Ravenelle noted that the school district is privileged to have partnerships with MWCC and Fitchburg State. "You cannot do this work alone."
"I enthusiastically support this program because it locks in the price of $30K, and can spur our students to stay on course and complete their degrees. That commitment from our students will improve retention and four-year graduation rates," said Higher Education Commissioner Richard M. Freeland. "It is my hope that the program will dramatically increase awareness of the affordability and high quality of our programs, and serve as a model for what we hope to do on a statewide basis."