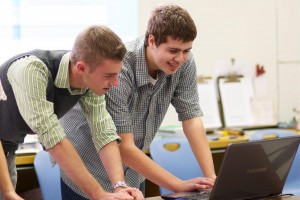 Good things can happen in three! The month of December has been quite exciting for the United Way Youth Venture of North Central Massachusetts. After presenting their community service ideas to a panel of judges, three teams of area middle and high school students received approval and seed funding to launch their ventures.
The students' projects ranged in scope, topic, and methodology, but all three teams exhibited commitment, unique ideas, and ardent attitudes about bettering their communities. Fagan Forhan, Director of the Center for Civic Learning and Community Engagement, sat on one panel. Other panelists consisted of local professionals from businesses such as Enterprise Bank and IC Federal Credit Union, as well as teachers and staff from area public schools and Mount Wachusett Community College, which oversees the program.
The United Way Youth Venture of North Central Massachusetts, a three-way partnership between the United Way, MWCC, and Ashoka's Youth Venture, encourages young people to initiate positive, lasting social change in their communities. Of all of the Youth Venture partnerships nationally, UWYV of North Central Massachusetts has the largest contingent of engaged students and teams. Since 2002, 165 teams have launched ventures, with 136 remaining active. In the past year, 40 teams have been launched across all partnering schools, which represents a 20% increase from last year. More than 2,500 students are actively engaged in the program and more than 8,000 students are exposed to it annually.
"Watching the youth of our community go through the process of identifying solutions to challenges they see in our region, and then building a business plan to address these challenges in innovative and creative ways is something we can all learn from," Forhan said. "When I hear them speak about their ventures, I am inspired by the future of this region and for the ways that they are learning to address the problems they see in a very concrete and fundamental way."
The new ventures include:
C4C: Care for Children – Memorial Middle School, Fitchburg
Sixth graders Michaela Wakefield and Shauna Carlson both remember a lack of supplies, particularly art and creative supplies, at the day care centers they attended in Fitchburg as children. This inspired them to create a venture to donate supplies, with an emphasis on art supplies, to needy day care centers in Fitchburg. This year they will donate to Busy Bee's Day Care, which is near their middle school, and in future years they hope to assist other centers in order to have a greater impact on the community at large. To fundraise, they will sell wristbands, pencils, and erasers with their team name on them at school functions. The team received $500 in seed funding from Youth Venture.
 The Parker Press – Francis W. Parker Charter Essential School, Devens
Sophomores Evan Rist, Ting Voung, and Seth Penna noted the lack of school newspaper at Parker and thought a paper would provide a great learning experience for aspiring journalists and business managers, as well as an important outlet for community building for students and readers. Together, along with a larger team of writers, designers, and staff, they led a venture to create a school newspaper – The Essential Word – that would be free, have monthly issues, and be sustainable for years to come. To finance the monthly printing cost, they will ask local businesses and school departments to sponsor a month, and ask parents and students to buy "messages," such as baby pictures, Happy Birthday, etc. The team received $1,000 in seed funding from Youth Venture. The Parker Press launched its first installment of the paper in November and will use the funding they received to continue printing monthly installments.
Goals for Nets – Francis W. Parker Charter Essential School, Devens
The Basma siblings – seventh graders Rayna and Adam, and junior Zayna – have all been positively affected through playing soccer. They decided to capitalize on their love for the game and also help alleviate the Malaria epidemic in Africa. They decided to create and run a soccer camp in June and July 2013 for children ages 8 to 10. Ten dollars of every $40 camper registration fee will go toward buying a life-saving malaria net through the organization NothingbutNets.net, which pairs with the United Nations Foundation to send nets directly to Malaria affected regions in Africa. Their goal is to send 100 nets by the end of the summer. The team received $1,000 in seed funding from Youth Venture. 
Kimberly Coates is the Youth Venture Partnership Specialist at MWCC and an AmeriCorps*VISTA.