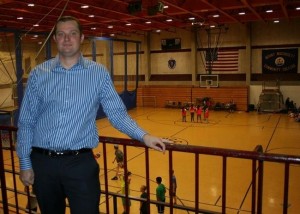 GARDNER – The Fitness and Wellness Center at Mount Wachusett Community College is a busy place, from early morning through the evening hours.
Every day, members flock to the facility, with its modern equipment, six-lane swimming pool, accessible weight-training and cardiovascular workout areas, plus basketball and racquetball courts.
Soon, however, in three weeks to be exact, the participant numbers will spike.
"The No. 1 New Year's resolution for people has always been to get in shape," said Jared Swerzenski, the center's new director. "In January, that's when people are looking for a place to begin the year with that goal in mind, and we want to be the best option in this area."
Mr. Swerzenski, 32, was appointed in July after longtime director Steve Washkevich retired after 18 years of service.
A graduate of Cushing Academy and Clark University where he excelled in soccer, Mr. Swerzenski has an extensive background in sports management after earning his undergraduate and graduate degrees in communication at Clark.
Before coming to MWCC, he was the first athletic director at North Central Charter School, now the Sizer School, in Fitchburg, an associate director of admissions and athletic recruiter at Post University in Waterbury, Connecticut, and the director of intramurals and assistant director of facilities at Framingham State University.
Mr. Swerzenski's association with the MWCC Fitness and Wellness Center dates to his childhood. "I went to the sports camps here – tennis, baseball and soccer – as a kid and I loved it," he said.
"I was ready for a new challenge when I applied for this job," said the tall and lean Mr. Swerzenski, who regularly exercises at the center and looks as if he could still easily step into the starting soccer lineup at Clark.
One of his major goals in his new position, Mr. Swerzenski said, is that he wants, in an increasingly competitive market, to increase the general public's awareness of the center and everything it has to offer.
"We've always been open to the public, but a lot of people still don't know that," he said. "We're like a hidden gem and we have a lot of dedicated, wonderful members who have been here from the start and they've been great in helping me. Our goal is to expand participation with new members. We also want to reach out to the many students who attend MWCC and really don't know enough about us."
Mr. Swerzenski said that the center has 2,300 paying members, and he would like to increase that number to at least 2,500.
"We want to be the place where people feel comfortable working out," Mr. Swerzenski said. "We have a facility which covers over 65,000 square feet and we offer over 75 weekly group exercise classes. We want to be an all-encompassing gym. If people come in and use the treadmill once a week, maybe they'll see a fitness class going on and decide to try it."
Mr. Swerzenski, who oversees a staff of three full-time and over 75 part-time employees, said that some of the more popular exercise classes led by certified athletic trainers include yoga, Insanity, Groove, Zumba and Group Ride.
Other offerings include massage therapy, a nursery, body composition testing, personalized nutrition classes and water aerobics.
"In my short time here so far, I've seen a lot of success stories about people losing lots of weight and also finding new friends," said Mr. Swerzenski. "Our big focus is to make this center feel like a community,"
Mr. Swerzenski, who lives in Hubbardston with his wife, Jill, and their daughter, Clair, praised the support and advice he has received from MWCC President Daniel M. Asquino, a dedicated Fitness and Wellness member himself.
To learn more, visit www.mwcc.edu/fitness or call (978) 630-9212.
Jay Gearan, Telegram & Gazette, Dec. 11, 2015