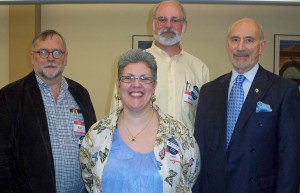 The MWCC Alumni Relations office kicked off the new Alumni Association Professional Development Series with an interactive networking workshop on January 15. The event featured Debbie Lefevbre, a certified business life coach for professionals who presented, "How to Truly Connect with Others to Enhance Your Career."  The workshop focused on the principles of effective communication.  The event, held in the Fidelity Bank Corporate Center's Community Room in Leominster, was sponsored in part by Fidelity Bank.
President Daniel M. Asquino welcomed participants and shared his enthusiasm and support for the college's new alumni programming.  "Our alumni are a very important part of our college community. The college is proud to offer this increased investment in our alumni through professional development programming, social events and other initiatives," he said.
Additional professional development workshops will be offered in partnership with the college's Human Resources Department on March 25 and April 22. Both workshops are free will take place from 8:30 to 10:30 a.m. on the Gardner campus and will focus on developing leadership abilities and customer service skills. Registration information will be available in the monthly Alumni eNews, on the alumni web page and will be posted on the Alumni Association's Facebook and Linked In pages.  In addition, a social event, "MWCC Night at the Worcester Sharks" is planned for April 11.
For more information on alumni programming or how you can join the MWCC Alumni Association, contact Carol Jacobson in the Alumni Relations Office at 978-630-9306 or cjacobson1@mwcc.mass.edu.