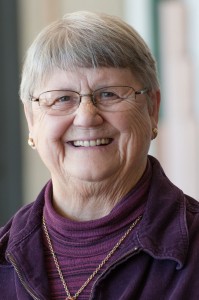 At age 80, Lorraine Wickman firmly believes the best is yet to come. An eternal optimist, she's had that perspective throughout each decade of her life, during times both good and bad.
Since retiring five years ago as coordinator of Mount Wachusett Community College's LIFE program (Lifelong Learning for Enrichment) for seniors, she has kept her hands, heart and mind active in college and community activities.
Most recently, she has created a cable program on GETV, channel 8, in Gardner called "The Best is Yet to Come." Sponsored by MWCC, the talk show is geared toward seniors and focuses on maintaining a positive outlook on aging gracefully. But it also delivers a message to adults of all ages, she said.
"People need to know there is not an internal button that is turned off at 60 or 70 years old. It's good for seniors to see what people are doing at every age, and for young people to realize there is delight in each phase of life. I really believe that we have no choice in growing older, but we do have a choice in whether or not we grow old."
Each half-hour program is intended to inspire or inform – or both. Wickman selects guests who aren't typically in the spotlight, but have stories to share, be they writers, artists or centenarians for inspiration, or police officers, health care professionals or fitness trainers informing on such topics as staying limber, preventing accidents and avoiding scams.
"Everyone has a story. I like to work with people who don't always get their space in the sun. "
Wickman said she commends and greatly admires President Daniel Asquino for his continued support for initiatives that serve the senior population.
"He's always been supportive on the ideas I propose to him, and he's also very supportive of this generation because he realizes that a college that has many layers of ages and interests and ethnicities is a stronger place."
A lifelong Gardner resident, Wickman raised her family in town with her husband, Tom. Then, at age 60, she viewed the empty nest years as an opportunity to enroll in college. She graduated in 1996 from MWCC with an associate degree in human services. She transferred to Fitchburg State University, where she earned her bachelor's degree in human services two years later.
From 1998 to 2008, Wickman created and ran MWCC's LIFE program, which offered noncredit courses and activities and received an excellence award from the Association for Continuing Higher Education.
A prolific poet on topics ranging from faith, hope and nature to loss, grief and adversity, Wickman shares her poetry in The Gardner News, local radio station WGAW, and with grief support groups, funeral homes and hospice programs.
"I think you're not gifted for yourself. You're gifted to give to others. And I feel that's what I'm supposed to do with the poetry," she said.
Wickman is hopeful to reach age 100, a goal that has become more attainable in modern times. A half-century ago, just 1 in every 67,000 people reached that milestone. Today, thanks to improvements in diet and healthcare, 1 in 6,000 people do.
"Our attitude toward life and living is what we have to depend on. I love my life and I'm 80 years old."
Mount Wachusett Community College offers free credit courses and discounted noncredit courses for Massachusetts residents age 60 and over on a space available basis. Prospective students must register within a week before classes begin, and complete a waiver form. For more information about enrolling in credit courses, stop by the Admissions Office or call 978-630-9110. For more information about noncredit courses, contact the Division of Lifelong Learning and Workforce Development at 978-630-9525 or visit https://mwcc.edu/noncredit.