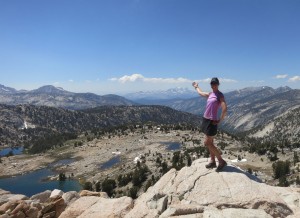 Ashburnham native Wendy Johnston will present "Reflections from the Pacific Trail: How Lessons Learned from One Woman's Journey Apply to Us All," on Tuesday, Oct 27 from 12:30 to 2 p.m. in the North Café at Mount Wachusett Community College. The free event is open to the public.
From April to September of 2013, Ms. Johnston backpacked the entire 2,700 mile long Pacific Crest Trail from the U.S./Mexican Border to the U.S./Canadian border through California, Oregon, and Washington.
During her presentation, she will discuss the reasons she hikes long trails, some of the adversity she has overcome both in life and on the trail, and the universal lessons she has learned on her long hikes. She will also show a slideshow of photos taken along her PCT hike. A question and answer session will follow.
The event is sponsored by the LaChance Library, the MWCC Fitness & Wellness Center, and the office of Student Life.