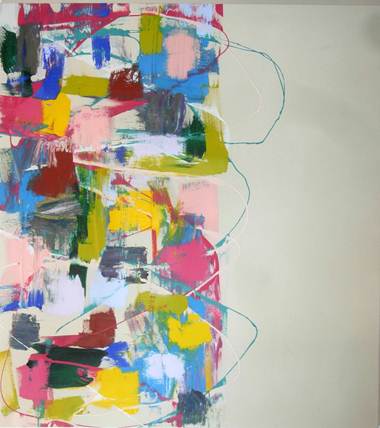 The artwork of Mount Wachusett Community College alumnus John Rosis ('77) has been presented in galleries throughout the Northeast. Currently, his paintings are on display in MWCC's East Wing Gallery through Dec. 7, when a reception will take place from 1 to 3:30 p.m. The reception is free and open to the public.
Rosis works with several mediums concurrently, including large-scale paintings on canvas, small-scale reverse paintings on glass, and collages on paper. His paintings feature line, form, texture and color, as derived from nature.
With a penchant for creating complex relationships out of simple shapes, Rosis has developed a strong appreciation for the hands-on process that drives all of his painting projects.
Rosis' work has previously been shown at Hopper House Art Center, Brooklyn Museum, Paul Sharpe Contemporary Art, and Rockland Center for the Arts in New York; Holter Museum in Montana, Southern Vermont Arts Center, Berkshire Art Museum, and Philadelphia Museum of Art.
Regular hours for the East Wing Gallery are Monday through Friday from 8 a.m. to 5 p.m. The gallery will be closed Nov. 27 and Nov. 28 for the Thanksgiving holiday.