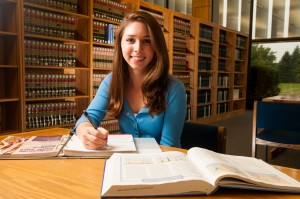 Motivated teens interested in paring two years of time and expenses off their college education should check out the Pathways Early College Innovation School at Mount Wachusett Community College. Praised by state education officials, parents and participating students, the two-year, dual enrollment program allows high school juniors to simultaneously earn their high school diploma and a transferable associate degree in the academic program of their choice.
Twenty new students will be accepted into the program for the fall semester, beginning Sept. 3. A series of required, two-day information sessions have been scheduled throughout the spring and summer.
One of the first two innovation schools created in Massachusetts in 2010 under Governor Deval Patrick's education reform bill and the state's first early college innovation school, Pathways provides high school juniors and home schooled students the opportunity to accelerate the pace of their academic careers using school choice funds to cover tuition and fees.
"Pathways has given me a support net that I will use for the rest of my life," said Jillian Johnson, a Liberal Arts and Sciences major who serves as student trustee on MWCC's Board of Trustees. "I have grown as a person and would not be who I am today without it. I have discovered new passions and rediscovered old ones. This program has shown me to not just meet expectations, but to surpass them. It taught me to go above and beyond. I recommend this program for any student who is willing to put in the work and wants something more than just average," she said.
"This program was ideal for me. I love the atmosphere, the teachers, and my peers. Everyone wants to see you succeed and encourages you to do your best. Pathways taught me to not ignore opportunities and to experience new things. I have become a new person and I'm proud of my accomplishments and who I am thanks to the Pathways program."
Her mother, Julie Johnson, also praised the program for the opportunities it creates. "It was great for Jillian to have an alternative to high school. She needed to be challenged and put in an environment that supports and encourages personal and academic growth. Pathways allowed Jillian to finish her high school requirements while tackling new subjects to work toward her associate degree. The flexibility of the Pathways program allowed Jillian to become her own person and have the independence and responsibility that a young person needs. I have nothing but good things to say about the program. It was the perfect match for her."
The Pathways innovation school is a partnership between MWCC and the Ralph C. Mahar Regional School District. Students are enrolled in college courses and integrated into campus life, and receive personalized advising from MWCC's Division of Access & Transition throughout their studies. Massachusetts Secretary of Education Matthew Malone, Commissioner of Elementary and Secondary Education Mitchell D. Chester and Higher Education Commissioner Richard Freeland have been among the officials to visit the Pathways school and praise it as an innovative, successful model.
To be eligible, students must live in Massachusetts, possess a minimum high school grade point average of 3.0, be at least 16 years old and entering grade 11 by the start of the fall semester, and be recommended by the sending school.
"Pathways students are motivated and mature," said Pathways Director Natalie Mercier.  "They are not just passing classes at MWCC, they are thriving," she said.
Upcoming information sessions will take place April 8 & 10; May 6 & 8; June 10 & 12; June 24 & 26; July 8 & 10; July 22 & 24. The first day of each session is the information portion and will be held in room W11 from 6 to 7 p.m. On the second day of each sessions, students are required to take the Accuplacer test. This will take place at noon in the Testing Center, room 129.
For additional information or to arrange an appointment, contact  Natalie Mercier at nmercier@mwcc.mass.edu or 978-630-9248.