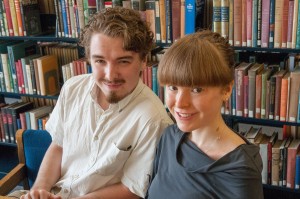 Motivated teens interested in paring two years of time and expenses off their college education should check out the Pathways Early College Innovation School at Mount Wachusett Community College. Praised by state education officials, parents and participating students, the two-year, dual enrollment program allows high school juniors to simultaneously earn their high school diploma and a transferable associate degree in the academic program of their choice.One of the first two innovation schools created in Massachusetts in 2010 under Governor Deval Patrick's education reform bill and the state's first early college innovation school, Pathways provides high school juniors and home schooled students the opportunity to accelerate the pace of their academic careers using school choice funds to cover tuition and fees.
Twenty new students will be accepted into the Pathways innovation school for the semester beginning Sept. 4. To be eligible, students must live in Massachusetts, possess a minimum high school grade point average of 3.0, be at least 16 years old and entering grade 11 by the start of the fall semester, and be recommended by the sending school.
The Pathways innovation school is a partnership between MWCC and the Ralph C. Mahar Regional School District. Students are enrolled in college courses and integrated into campus life, and receive personalized advising from MWCC's Division of Access & Transition throughout their studies. More than 30 students have graduated to date and 19 are on target to graduate in 2014.
"Pathways students are motivated and mature," said Natalie Mercier, director and principal of the innovation school. "They chose to leave the traditional high school environment so that they can step into a college education and complete a two-year degree before they even officially graduate from high school. These students are not just passing classes at MWCC they are thriving," she said.
Massachusetts Secretary of Education Matthew Malone, former Secretary Paul Reville, Commissioner of Elementary and Secondary Education Mitchell D. Chester and Higher Education Commissioner Richard Freeland have been among the officials to visit the Pathways school and praise it as an innovative, successful model.
Many members of the first graduating class, including 2012 valedictorian Thomas Elbourn of Gardner, are entering their senior year this fall at a four-year institution.
"After being home schooled, I expected the transition to a public college to be difficult," Elbourn said. "Instead, it was so natural-feeling, and I felt the program was too good to be true. This program allowed me to propel my undergraduate education by two years." After graduating from Assumption College with a bachelor's degree in psychology this coming spring, he plans to begin pursuing his master's degree.
His sister, Claudia, was this year's Pathways valedictorian and is transferring to Gordon College in the fall to pursue a degree in English.
"This was the most wonderful two years of my life because I built the foundation of people that I know, that I love, and that I can turn to as role models for my future self," she said.
The siblings said they enjoyed the caliber of education and guidance they received, though agree the rigorous program may not be an ideal pace for everyone.
"It was perfect for them – they loved everything about it," said their mother, Joanie Elbourn. "They loved the professors, they loved the courses. I can't say enough about it."
An information session for prospective applicants will take place Tuesday, July 23 from 6 to 7 p.m. in room W11 at MWCC's Gardner campus, 444 Green Street. Appointments and information also may be arranged by contacting Pathways Director/Principal Natalie Mercier atnmercier@mwcc.mass.edu or 978-630-9248.