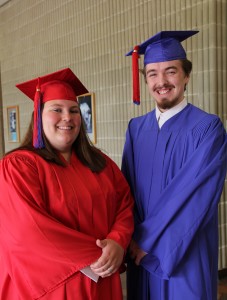 Whether they came to MWCC to accelerate the pace of their education or to get back on track after a problematic high school experience, the 44 graduates of the Pathways Early College Innovation School and the Gateway to College program have this in common: this spring they each reached a milestone.
Students enrolled in the two programs, which are offered in partnership with the Ralph C. Mahar Regional School District, were recognized during a May 23 graduation ceremony in the college's Raymond M. LaFontaine Fine Arts Center theatre. As dual-enrolled students, the graduates all completed the requirements for their high school diploma while simultaneously earning college credits or a degree.
Thomas E. Elbourn, the Pathways innovation school valedictorian who is transferring to Assumption College to continue his studies in psychology and counseling, shared that his faith and experiences inspired him to speak on the most important truth he's learned in his young life.
"I firmly believe that the purpose of life, its deepest fulfillment, lies in that basic love and care and kindness to one's fellow man. We live in a world of endless pursuits, infinite beauty, unbelievable experiences and 7 billion characters to play along with – don't waste this chance, this life, on the mundane. Don't waste it on the trivial. Don't waste it by getting hung up on anger and sorrow and selfishness. Waste it on love," he said.
"Whether this love is shown by living with the poor in Africa, the poor in New York or the poor in spirit next door, whether it is shown by the kind, encouraging word spoken to your friend or to your enemy, whether that love is shown by forgiveness and healing, whether that love is toward family, friends, a significant other or a stranger, or as Emerson stated, a little garden patch that you nurture, I urge you to love extravagantly."
Elbourn thanked the college, the Mahar district and his classmates "for an unforgettable and unbelievable" two years. "We all became adults together, and I think that was – and is – something marvelous."
Gateway valedictorian Megan Reiser said the program and its staff and faculty were instrumental in helping the graduates overcome adversity to achieve their goal.
"The education we have received here has helped us open doors full of new and exciting opportunities. We have all had our ups and our downs. However, we have reached one goal today receive a high school diploma. That is something that no one can take away from us, we have each earned it. There is no doubt that more struggles may come our way at times, but I leave you with this quote by Ralph C. Mahar to help you persevere throughout your lives:
"May you always have faith in yourselves whatever hardships may develop in the years ahead. May you be the individuals in the sense that you make up your minds, that you think straight and that you stand on your own two feet. May you have a sense of social conscience which shows concern for your fellow man, and yet, may I urge you to beware of the philosophy of those who advocate something for nothing."