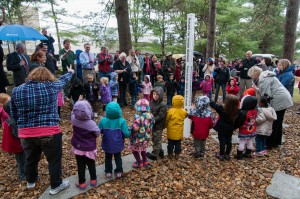 By Chelsea Quinn
Students, faculty and staff of all ages gathered at the Gardner campus on Nov. 7 for a Peace Pole dedication. The pole, engraved "May peace prevail on earth" in eight languages, is a gift to the college from students in honor of MWCC's 50th anniversary.
The dedication was spearheaded by The Green Society, with contributions made from many campus clubs, including the Student Government Association, Phi Theta Kappa and Alpha Beta Gamma honor societies, The Veterans Group, Beyond Str8, Computer Graphics Design Club, the Student Nurses Association, Early Childhood Education Club, Theatre Club, Legal Studies Group, Math and Our Community Club, the  Art Club, Cru, ALANA, the International Club, Campus Activities Team for Students (CATS) and the Philosophy Club.
"The pole serves as a reminder to keep peace in the forefront of our minds," said Linda Patterson, president of The Green Society and a Natural Resources major. "It was really heartwarming to see how many clubs worked together to make this happen. It was really a beautiful collaboration and a wonderful opportunity to work with so many people."
The pole, adjacent to the Garrison Center amid a newly created garden, bears the message of peace in English, Spanish, Chinese, German, Arabic, French, Portuguese and Swahili.
Dr. Vincent Ialenti, co-chair of the 50th Anniversary Committee, said the dedication served as a fitting end to the college's year-long celebration.
The peace pole movement began in Japan in 1995. Since then, more than 200,000 peace poles have been installed around the world, with illustrious figures such as Pope John Paul II, Mother Teresa and the Dalai Lama photographed at them.
Tommy Priester and Karen Maguire of Lincoln, MA performed Native American songs of peace, healing, empowerment and transformation accompanied by the beat of a drum. Preschoolers enrolled in the Garrison Center for Early Childhood Education sang "Silver and Gold," a friendship song.
Patterson, who led the ceremony, thanked Greg Clement, Associate Dean of Students, Sandra Arsenault, Student Activities Program assistant, Alan Cumming, Head of Grounds section, Bill Swift, Director of Maintenance & Mechanical Operations, and the facilities and grounds crew for the installation of the peace pole and garden.
Accounting major Bethany Jones, whose daughter, Natalie, was among the preschoolers, said she was happy to attend the event. In 1999, at age 11, Jones conducted a bottle and can drive as a Girl Scout project. The funds raised were used to install a peace pole at Reingold Elementary School in Fitchburg.