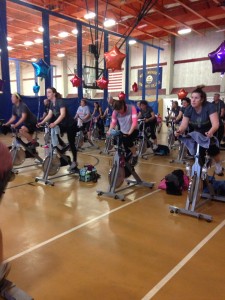 GARDNER About two dozen volunteers climbed aboard their spin-bikes at 9 a.m. on Sunday and began pedaling, and — with the exception of a short break now and then — they didn't stop for the next three hours.
The event, held at the MWCC Fitness and Wellness Center, was the 7th Annual Pedal to End Cancer, a New England-wide indoor cycling fundraising event to benefit the American Cancer Society. Event Coordinator Lori Pucko said the school's involvement in the event began seven years ago when a member of the fitness club was diagnosed with cancer.
"We thought it would be a nice way to raise some money, and we've just been doing it every year," Ms. Pucko explained, adding that the event raises several thousand dollars in donations annually. "We're up to over $30,000 over the past six years."
Ms. Pucko, who is also the group fitness manager at the center, said the event is one that club members look forward to each year, an indication of just how many lives are touched by such a terrible disease. "This event is super-important to them. They have loved ones that have passed, and some of our own members are still struggling," Ms. Pucko explained.
Participants this year were pedaling in recognition of Diane Guertin of Hubbardston, a fellow fitness center member who is battling cancer for the second time and currently undergoing chemotherapy treatment. "(Diane) actually called me Friday night from UMass to wish us good luck," Ms. Pucko said.
"She has participated in this event every year, so we've been taking pictures and videos and we're going to send them to her." Participants were allowed to form teams of three to reduce their pedaling time to a more manageable hour, according to Ms. Pucko. Short hydration and bathroom breaks were also permitted. Ms. Pucko said the event, which this year featured food donated from Hannaford's Supermarket and Papa Gino's, had grown over the past seven years. This year's event also featured music and videos provided by Platinum Productions of Lunenburg, and massage therapist Sharon Godin of Orange donated her services to participants.
After a moment of silence to remember those lost to the disease and to recognize survivors who are still battling, fitness club member sang an emotional version of Amazing Grace.
Sunday's event raised nearly $5,000 and concluded on a touching note, as participants attached personal messages of remembrance or encouragement to about 20 helium balloons, went outside and released them to the sky.
The Gardner News 3/2/2015
Stephen Landry, News Staff Writer