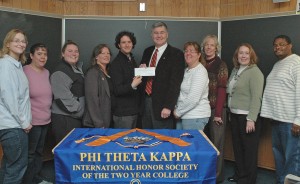 Members of MWCC's Phi Delta chapter of the Phi Theta Kappa honor society recently presented a donation to the House of Peace and Education from proceeds raised during the chapter's ninth annual Project Graduation.
The $300 donation was collected through the sale of Commencement DVDs in conjunction with the college's Broadcasting and Electronic Media program.
"We truly appreciate this," HOPE Executive Director Christian Orobello told the chapter members during a visit to the college. "The money you  raised will send a child to summer camp who would not be able to go otherwise. The good you've done and the effort you put in really grows within HOPE. We could not exist without the people of greater Gardner."
In addition to this donation to HOPE, the Alpha Beta Gamma business honor society also raised funds for the nonprofit organization through a recent bake sale.
Pictured from left, Julie Graziano; Michelle Peters, chapter secretary; Megan Reiser; Elizabeth Reiser chapter president, HOPE Executive Director Christian Orobello; MWCC Professor Michael Greenwood, PTK faculty advisor; Karen Duchnowski, Project Graduation co-chair; MWCC Executive Vice President Ann McDonald; Fagan Forhan, Director of Experiential Learning Opportunities & Civic Engagement and PTK Faculty Advisor; Stevie Burwell.