By Elizabeth Reiser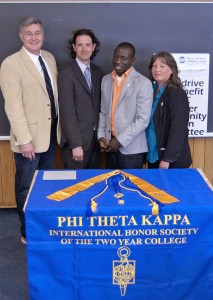 Mount Wachusett Community College's Phi Delta Chapter of the Phi Theta Kappa International Honor Society is sponsoring its 10th annual "Project Graduation" food drive in conjunction with the college's 48th Commencement ceremony on May 16. In addition, the chapter is once again joining with the Broadcasting and Electronic Media program and the college's media services department to produce Commencement videos. Proceeds from the video sales will be shared between the chapter and the House of Peace and Education (HOPE), a local non-profit agency that assists at-risk women and children.
All graduates and their guests are asked to bring a non-perishable food item to the Commencement rehearsal and/or ceremony. Receptacles will be located at entrances to the Fitness & Wellness Center. All donations will be delivered to the Gardner Community Action Committee's food pantry to benefit the local community. In addition to Commencement collections, donation receptacles are available in various areas of the campus through May 8.
In addition to the food drive, professional quality, edited DVDs of the ceremony will be available for $12 each if purchased before May 15, and for $15 after that date. This cost includes shipping and handling. Graduates and their families can pre-pay with the form enclosed in the graduation package they received, at the Phi Theta Kappa table at the rehearsal or at the ceremony, or online through MWCC's iConnect Graduation 2013 tab.
Enjoy this special 50th Anniversary of Mount Wachusett Community College graduation ceremony and help your community. Donate to the food drive and place an order for your graduation DVD so you can share your accomplishment with your family and friends!
Thank you for your support!
Elizabeth M. Reiser is president of MWCC's Phi Delta Chapter of the Phi Theta Kappa International Honor Society.