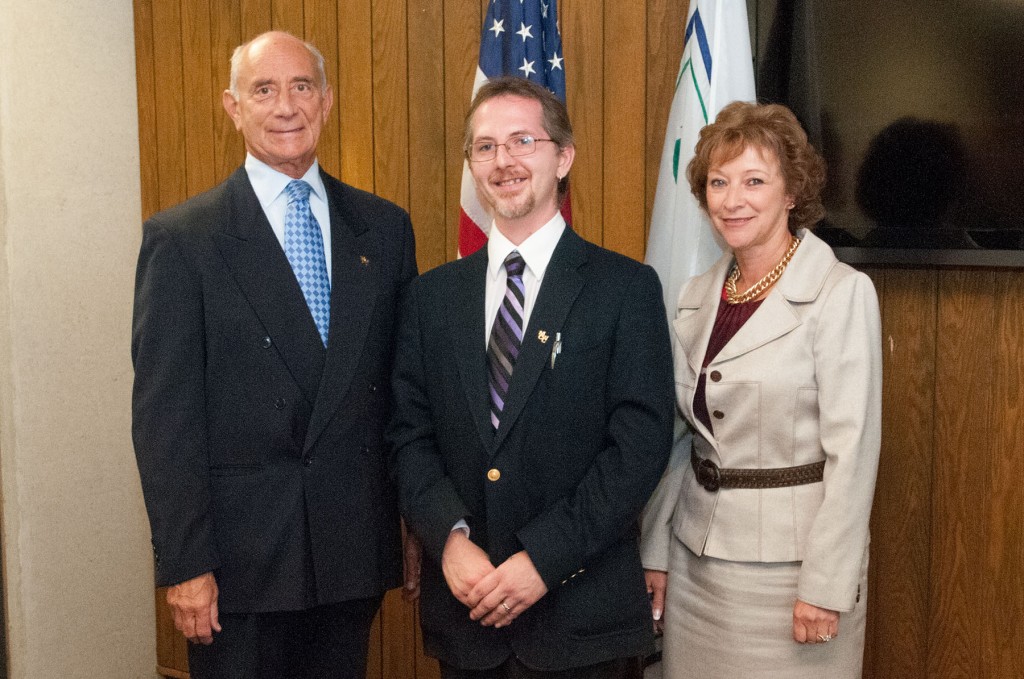 Phillip Stan, a liberal arts major with a concentration in music, has been appointed to Mount Wachusett Community College's Board of Trustees after being elected to the one-year position by his student peers this past spring.
The chamber music enthusiast and father of five was sworn in as the college's student trustee on the afternoon of Sept. 11 and attended his first board meeting immediately following the ceremony.
Adding to his standing as a student leader on campus, Stan will represent fellow MWCC students on the 11-member board, a role he relishes.
"I want to serve as student trustee for the same reason I want to be involved with campus clubs and organizations. I enjoy being part of something bigger than myself and feel that the students need a strong voice to accurately represent their desires," he said.
"We are very pleased that Phil will be serving as our student trustee this academic year, as his track record of academic achievement and student engagement is well-documented," said MWCC President Daniel M. Asquino. "Phil takes an active role not only in his own success, but in that of others."
At MWCC, Stan serves in a range of leadership roles. He is vice president of civic and community engagement for the Phi Theta Kappa Honors Society, a member of both the Commonwealth Honors Program and the organization's planning committee and a mentor in the Students Serving Our Students (SOS) program within the Center for Civic Learning and Community Engagement. He also previously mentored children in the House of Peace and Education's afterschool program in Gardner.
In addition, he is president of the MWCC Chamber Players club, an all-encompassing position that sees him arranging events, namely a 2013 trip to the Boston Symphony Orchestra, and building a chamber ensemble to stage concerts every semester. MWCC's new student trustee is also an accomplished pianist, guitar player and singer.
However, Stan's career goals are not purely musical.
"Ultimately, I'd love to work with autistic children through music instruction and exposure," said Stan, who plans to pursue a bachelor's degree in Music Therapy from Anna Maria College, his mother's alma mater, after graduating from MWCC next spring. "I have a child at home with special needs, and I believe that music is a great way to facilitate communication with those who can't communicate conventionally."
With a busy college schedule and five children at home, Stan says he owes a great deal of credit to his wife Jennifer, whose enduring support has allowed him to succeed at MWCC.
As student trustee, Stan plans to apply his varied experience in civic engagement and mentorship to help students succeed in college, as well as benefit MWCC.
"I am very outgoing and not afraid to try new things or get people involved in new things," said Stan, who, on the day of his appointment, fittingly helped freshman students gain signatures for Student Government Association candidacy. "I strongly believe in the importance of civic engagement and college completion, and these two things are a big part of what I would like to bring to MWCC."
– Cameron Woodcock