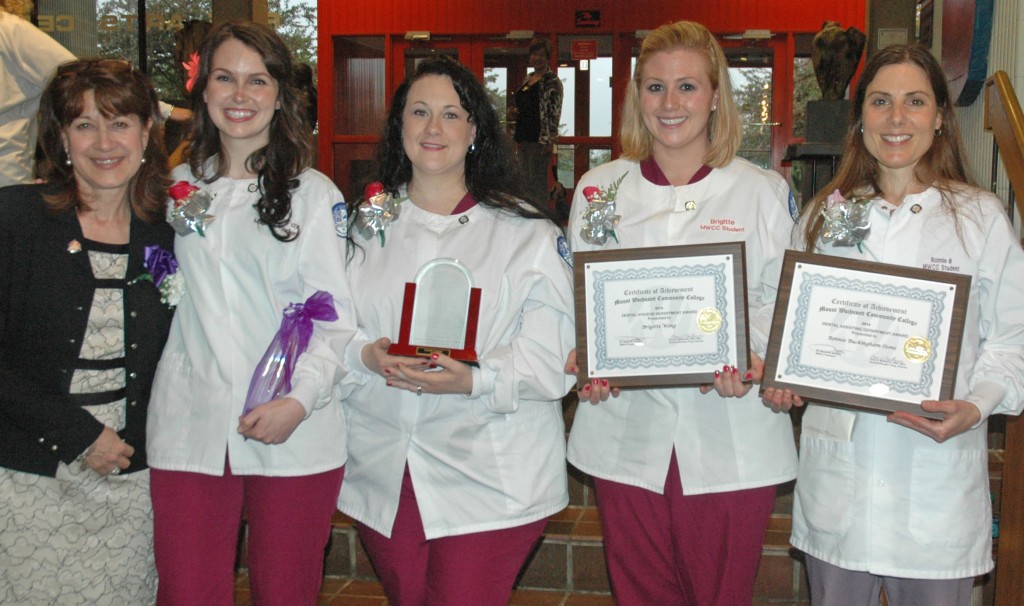 Graduates of MWCC's Dental Hygiene and Dental Assisting programs were welcomed into the profession during the department's annual pinning ceremony on May 16 in the Raymond M. Lafontaine Fine Arts Center theatre.
Dr. Melissa Fama, vice president of Academic Affairs, and Anne Malkasian, program director, congratulated the graduates on their achievement.
"Nelson Mandela once said, 'There is no passion to be found in playing small, in settling for a life that is less than the one you are capable of living.'  I hope that you will not see today as an end to your education but a beginning. I hope that you will embrace lifelong learning and advance yourself to your highest potential," Malkasian told the graduates.
"We are reminded daily and most recently in the media, of the injustices in the world, in Nigeria especially, where more than 300 young girls have been abducted simply because they are pursing education," she continued. "Let this act be a reminder to us all, how precious our liberty is, to follow our dreams in this great country, this state and in this institution – of Mount Wachusett Community College."
Malkasian, who is retiring this summer after years of expanding the successful program, was recognized by the students and faculty for her dedication and leadership.
Government Affairs consultant Charles Glick, who met the students during their annual visit to the State House to advocate for legislative changes in the dental profession, was the keynote speaker. As government affairs consultant to American Dental Hygiene Association Massachusetts, Glick serves as a "cheerleader" of sorts for the dental hygiene profession and coach to legislators on the impact of regulations, he said.
"I have learned so much over the course of the last few years. I am now able to do root planing and scaling. Just kidding! Seriously, I have learned that dental hygienists and dental assistants are educators. You educate people in the prevention of a disease that is fully preventable.  You aren't just putting sharp instruments into people mouths, though you are well qualified to do that, you are treating the whole person. You are health coaches encouraging people to do the things they need to do when they go home. You are clinicians, educators, advocates, managers and researchers, in order to prevent oral disease and promote health."