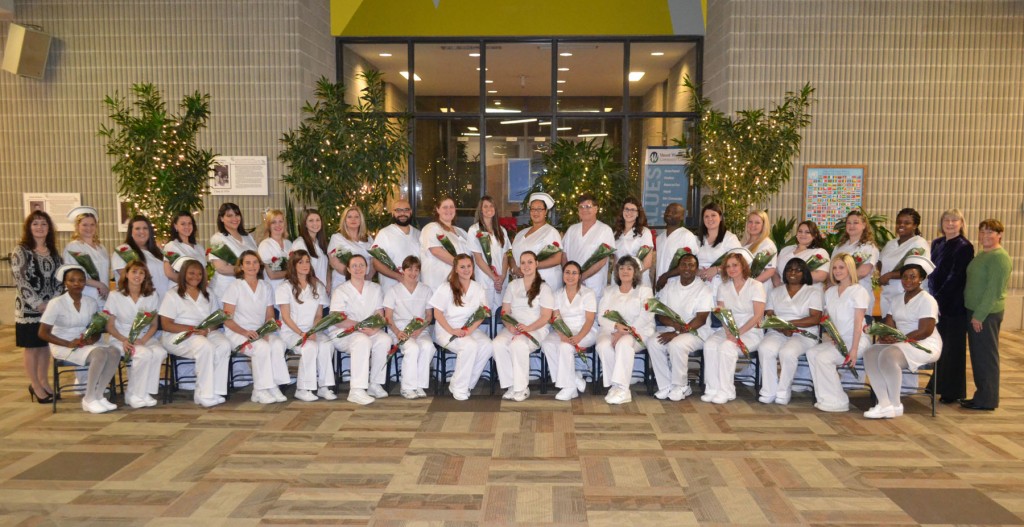 Friends, relatives and members of the college community gathered December 17 to welcome 35 Practical Nursing graduates into the nursing profession during a traditional pinning ceremony.Each graduate, dressed in a traditional nurse uniform, was welcomed into the profession by having a nursing pin fastened to her or his lapel by a fellow nurse – a family member, friend or faculty member. MWCC's eight-star pin is imprinted with the words "Service to Humanity and the World" with the nursing symbol in the middle.
Robert LaBonte, Vice President of Finance and Administration, congratulated the students on behalf of the college and President Daniel M. Asquino, and Eileen Costello, Dean of the School of Health Professions, Public Service Programs & Social Sciences, delivered greetings from the Nursing Department.
Faculty member Lisa Gendron delivered the keynote address, congratulating the graduates on their achievement and offering words of encouragement as they begin their nursing careers. "Your pinning ceremony is a celebration of all the sacrifices you have endured to be here this evening. So congratulate yourselves as we congratulate you all."
Like many of the graduates, Gendron began her healthcare career as a nurse assistant, before becoming a licensed practical nurse and an registered nurse. An alumna of MWCC's associate degree nursing program, she went on to earn her bachelor's and master's degrees in nursing. Gendron encouraged the students to continue their education as lifelong learners.
"There are few investements that will yield as high an investment as education."
Graduates Vanesa Sanchez and Monica Mbugua, delivered student addresses, and classmates Amy Lovern, Elizabeth Carville, Noella Vautour, Rebekah Thompson and Megan Rivard presented on the significance of the pinning ceremony and its traditions, including the lighting of the lamp and the Florence Nightingale Pledge.
Reflecting on the rigorous academic program, Mbugua said, "We are students of different ages, from different nationalities, with different life experiences, and we are here tongiht sharing the same stage because we've worked hard to be here."
"We have experienced so much in one year," said Sanchez, a class representative. "Some sad times, some happy times, and some amazing times that will help define us as nurses for the rest of our lives. We have witnessed new life enter the world, aided in the end of life care, and all the stages in between. In these moments I have watched my classmates grow. Our compassion is unmatchable, our perseverance is inspiring and our love for nursing is evident in everything we do."
As part of the one-year academic program, the students trained with professionals at 23 clinical sites that partner with the college, including Athol Hospital; Clinton Hospital; Community Health Connections; DaVita Dialysis Center; Fitchburg Adult Day Health; Gardner Adult Day Health Centers; Gardner Rehabilitation & Nursing Center; Golden Living Center; Habit OPCO; Heywood Hospital MHU/GPU; Heywood Hospital Maternity Center; HealthAlliance, Leominster Birthing Center; Leominster Public School District; Life Care, the Highlands; Life Care, The Highlands Adult Day Health; Nashoba Nursing Service and Hospice; North Central Charter Essential School; North Quabbin Adult Day Health Center; St. Peter-Marian Jr.-Sr. High School; St. Vincent Hospital, Seven Hills Pediatric Center; Stetson School; and Worcester Recovery Center & Hospital.