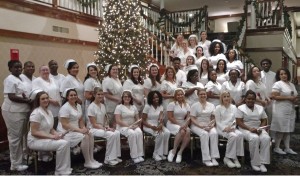 Forty-two Mount Wachusett Community College students were welcomed into the nursing profession during a traditional pinning ceremony on December 21.
"As you graduate and take on new challenges, it is important to remember that you have already taken the initial step you needed to build a more promising future," keynote speaker Michelle Humphrey, RN, a 2006 alumna of the program, told the graduates. "Every class you've taken, every lab, paper and certification you've earned, have all been preparing you to adapt to change and future challenges. The most powerful tool you will have is the determination to succeed, which has taken you through this program and culminated in this pinning."
Like many of the graduates, Ms. Humphrey began her healthcare career as a nurse assistant, before becoming a licensed practical nurse and a registered nurse. After earning an associate degree in nursing, she went on to earn a bachelor's degree in nursing from the University of Massachusetts, Amherst, graduating with honors. She was consecutively promoted to her present position, director of nursing services, for Genesis Healthcare's Pheasant Wood Center and Keene Center in New Hampshire.
"This program brought enormous good into my life, the opportunity to build a career, financial security for my family and a job where I positively impact people every single day," she said.
Robert LaBonte, Vice President of Finance and Administration, congratulated the students on behalf of the college and President Daniel M. Asquino, and Eileen Costello, Dean of the School of Health Professions, Public Service Programs & Social Sciences, delivered greetings from the academic school.
Graduates Leslie Jele, Barbara Avila and Melissa Gonzalez delivered student addresses, and classmates Rebecca Beirholm, Cynthia Riley, and Terri Stewart led the lighting of the lamp and the Florence Nightingale Pledge.
Each graduate, dressed in a traditional nurse uniform, was welcomed into the profession by having a nursing pin fastened to her or his lapel by a fellow nurse – a family member, friend or faculty member. MWCC's eight-star pin is imprinted with the words "Service to Humanity and the World" with the nursing symbol in the middle. Professors Kathleen Panagiotes, Kimberly Shea and Collene Thaxton led the ceremony, which took place at the Colonial Hotel while renovations at the MWCC's Green Street campus continue.
As part of the one-year academic program, the students trained with professionals at 23 clinical sites that partner with the college, including Athol Hospital; Clinton Hospital; Community Health Connections; DaVita Dialysis Center; Gardner Public Schools, Gardner Rehabilitation & Nursing Center; Golden Living Center; GVNA Health Care, Inc. – Fitchburg, Gardner and North Quabbin; Habit OPCO; Heywood Hospital MHU/GPU; Heywood Hospital Maternity Center; HealthAlliance, Leominster Birthing Center; Leominster Public School District; Life Care, the Highlands; Northeast Allergy, Asthma and Immunology Clinic; Quabbin Valley Health Care; St. Peter-Marian Jr.-Sr. High School; St. Vincent Hospital, Seven Hills Pediatric Center; Stetson School; and Worcester Recovery Center & Hospital.