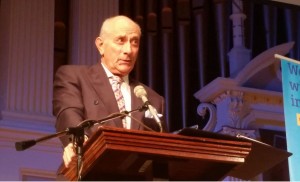 The SHINE Initiative held its tenth annual Keep Your Mind Open event on October 5, 2016 at Mechanics Hall in Worcester, Massachusetts. Among the evening's highlights, Dr. Daniel M. Asquino, President of Mount Wachusett Community College, was presented with the Lifetime Achievement Award by Ed Manzi, Jr., Chairman of the SHINE Initiative and Chairman of Fidelity Bank.
President Asquino was recognized for his leadership in increasing mental health awareness through support of mental health and wellness conferences and events that have featured experts in the fields of mental health as speakers and panelists.
The SHINE Initiative aims to shine a light of understanding on the issues of mental health and was founded in 2004 under the guidance of a community-based advisory board and the directors and employees of Fidelity bank, based in Leominster.
Mount Wachusett Community College will continue its support of mental health awareness under Dr. Asquino's leadership by sponsoring the upcoming Mental Health and Suicide Prevention Awareness Event on Tuesday, October 11, 2016 at Great Wolf Lodge at 5:00 p.m.
For a list of mental health and wellness resources, please visit: mwcc.edu/hr/wellness.