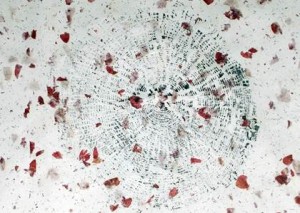 "Purification," traditional Buddhist sculptures and contemporary work by Thomas Matsuda, will be on exhibition at Mount Wachusett Community College February 18 through March 15 in the East Wing Gallery of the Raymond M. LaFontaine Fine Arts Center.
An artist's reception will take place Thursday Feb. 21 from 5 to 7 p.m., and an artist's talk will take place Wednesday, Feb. 27 from 12:30 to 1:30 p.m., both in the gallery. The reception and talk are open to the public. Regular gallery hours are Monday through Friday from 8 a.m. to 5 p.m.
Born in Connecticut in 1956, Matsuda earned his BFA in drawing and painting from Pratt Institute, and his MFA in sculpture from the University of Massachusetts. He began his career as a lithographic printer in New York, creating abstract drawings, paintings, and prints influenced by Eastern philosophy. His interests led him to accompany a group of Japanese Buddhist monks on a peace pilgrimage that involved walking across America for six months. He then spent six months in Arizona with the Navajo.
Following these experiences, he traveled to Japan in 1983, where he apprenticed under the renowned sculptor Koukei Eri for two years, before moving to a remote mountain village for 10 years. There, he carved sculptures from wood he hauled out of the mountain forests and from stones he selected from riverbeds. While in Japan, he created more than 200 sculptures for temples, shrines, villages, businesses and individual patrons.
"Fire, air, water, earth and space are the five elements in eastern culture," says Matsuda, an art professor at Mount Wachusett Community College. "I use these natural elements in my work, often burning wood. Each time, my work evolves with the situation, site, inspiration and materials. I have created large fire ritual/performances at many venues. I have collaborated with dance troupes, musicians, Buddhist monks, and Native Americans. I deal with the environment, natural and human, addressing environmental issues, cultural relationships, and the integration of art, culture, and spirituality."
Matsuda has had solo exhibitions in major cities in Japan and throughout the United States. His outdoor sculptures are in sculpture parks, parks, and universities nationally and internationally including Pedvale Open-Air Museum, Latvia; Maria Howard Arts Center, North Carolina; Morton Arboretum, Illinois; Western Michigan University, Michigan; Fields Sculpture Park, New York; Abington Sculpture Park, Pennsylvania; Smith College, Massachusetts; University of Massachusetts, Amherst; Leverett Peace Pagoda, Massachusetts; Grafton Peace Pagoda, New York.
The Conway, Mass. resident has exhibited in group exhibitions in major galleries in New York City including Exit Art, as well as at galleries in Qatar, Egypt, Germany, London, Bejing, Hungary, Rumania, India, and Japan. He has been awarded many grants, including from the Adolph and Ester Gottlieb Foundation, U.S. Embassy, the Japan Foundation, the Ford Foundation, and the Blanche Colman Award.
In 2009, he created and curated the traveling exhibition 'Prayer Flags Around the World,' which has traveled through New York and Massachusetts to Boston, France, Romania, Netherlands, and Germany, and will proceed to Australia, Switzerland, Sudan and Vietnam.
Matsuda describes his work as a culmination of all of his experiences and ideas. "I am constantly striving to realize a synthesis of East and West. Koukei Eri said, 'In the West, sculpture, like most forms of art, is viewed as a medium of artistic self-expression. By fixing his name to his works, the artist seeks to manifest his individuality – as well as to seek eternal recognition. With Buddhist sculpture, however, what is important is for the artist to devote himself wholeheartedly to his task in an attitude of benevolence. That's why you will find no signature or seal on a Buddhist image.' In this way, I approach my own art and the work that I pursue," Matsuda says.
Matsuda teaches drawing, design and sculpture at Mount Wachusett and also teaches at the College of New Rochelle Graduate School, New York. He previously taught for many years at Pratt Institute. For more on the artist and his work, visit www.tmatsuda.com.