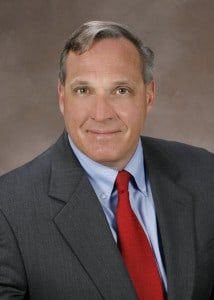 Community leader and long-serving volunteer Raymond J. Martino is the recipient of Mount Wachusett Community College's 2016 Service Above Self Award. The award recognizes individuals who have made significant contributions within the 29 cities and towns that make up the college's service area.
Mr. Martino, president and CEO of Simonds International, Inc. and chair of the MWCC Foundation, will be recognized during the college's 51st commencement ceremony on May 18.
"We are proud to present this year's Service Above Self award to Ray Martino," said President Daniel Asquino. "Through his work professionally and in a volunteer capacity, he is making a tremendous difference in the lives of North Central Massachusetts residents and in the lives of our students. His willingness to share his time and talents exemplify the importance of engaged citizenship and the difference one person can make in the world."
"It's an honor to be recognized with this award and to be involved in a community so willing to serve others," Mr. Martino said. "When a community has leaders driving partnerships and fundraising, it spreads, it's contagious. The more leaders who participate, the more others step up and the bar is raised."
Born and raised in Connecticut, Mr. Martino moved to Lunenburg with his wife, Susan, and their family in 1999 to head Simonds, a leading worldwide supplier of cutting tools for the wood and metal industries. He immediately became involved in community service and over the past 17 years, has supported the region in a wide range of capacities and has encouraged a culture of volunteerism at Simonds.
He served on the North Central Massachusetts Chamber of Commerce for nine years, including as past chair, and continues to serve on the chamber's leadership committee. In addition to serving as chair of the MWCC Foundation, he serves as vice chair of the Workers' Credit Union board of directors, and is a member of the Fitchburg Plan, a group of local volunteers working on a grassroots level to help facilitate economic development in the city.
In addition, he is chair of the North Central Massachusetts Development Corporation, which has provided $1.5 million in loans to regional organizations, and is also active with the United Way of North Central Massachusetts.
He previously served on the Fitchburg State University Foundation and is a past member of the university's Regional Economic Development Institute. He also served on the board of overseers for the University of Connecticut's School of Business and is a past director of the Connecticut Chapter of the Cystic Fibrosis Foundation.
Mr. Martino earned a bachelor's degree in economics from Fairfield University, and a master's in business administration and a master's in economics from the University of Connecticut. He is the past president of several divisions of the Connecticut manufacturing corporation The Stanley Works, now Stanley Black & Decker.