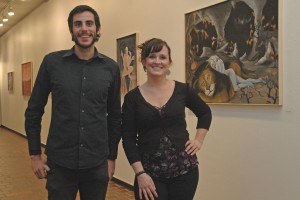 "Recent Works," an exhibit featuring paintings by local artists Matthew Gaspar and Danielle Darling, is on exhibit through Jan. 2 in the East Wing Gallery of the Raymond M. LaFontaine Fine Arts Center.
Gaspar, a native of Gardner, studied art at MWCC and Assumption College before earning his bachelor's degree in fine arts education from the University of Massachusetts Amherst in 2010. Darling, a Worcester native, earned her associate degree in art from MWCC in 2005.
An artists' reception, sponsored by the Art Department, took place on Nov. 30.