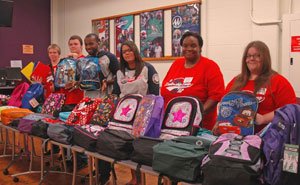 The office of Student Life's 8th annual Summer Leadership Camp provided 53 incoming students with an introduction to student success and leadership opportunities at MWCC. The two-day program, held Aug. 21 and 22, offered team building activities, educational workshops and civic engagement projects completed in collaboration with the college's Center for Civic Learning and Community Engagement.
Among the service projects, participants completed the fourth annual backpack drive to benefit elementary school children living in foster care in Massachusetts, and helped out at the nonprofit agency GAAMHA in Gardner and the Spanish American Center in Leominster.
The Leadership Camp, which has grown from one dozen participants in its first year, is designed to give new students a jump start on their first semester at MWCC. The success of the program relies on dedicated faculty, staff, alumni, current students and other community members who participate in the program, said Assistant Dean of Students Greg Clement.