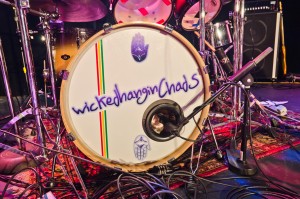 The Wicked Hangin Chads, a Boston-based reggae fusion band influenced by Bob Marley and Jimmy Cliff among others, will perform a free concert Saturday, March 14 at Mount Wachusett Community College.
The concert will serve as a live training event for students enrolled in MWCC's Media Arts and Technology program, as well as provide hands-on experience for college students in other disciplines. High school students visiting the campus prior to the concert have been invited discover how the world of music and broadcasting intersect by participating in event set up.
The concert will begin at 8 p.m. in the theatre of the Raymond M. LaFontaine Fine Arts Center. Doors open at 7:30 and seating will be available on a first-come, first-served basis.
Husband and wife Rick and Celia Chadwick have been performing together for more than three decades, joining talented musicians from as far away as Dubai and as diverse as a West African drummer and a traditional Indian instrumentalist. They formed the Wicked Hangin Chads six years ago, offering a mix of original reggae, reggae hybrid and ska with a Latin blues flavor. The band has summer residency at the Barking Crab restaurant in Boston and has played numerous venues over the years including the Hard Rock Cafe.
"We do one concert a year as a training event for students enrolled in five different courses," said John Little, chair of the Media Arts and Technology department. "In their chosen disciplines, they take part in promotion, set design, lighting, recording, photography, video camera operation video directing, video editing, audio mixing and mastering, poster design, and product design."
"I'm thrilled to have a seven piece reggae band as our act this year. They will provide our video and audio students a wonderful challenge. In the weeks that follow these annual concerts, we regularly hear from our students that the concert was the most beneficial day of their entire time at college. And THAT is music to my ears," Little said.
Media Arts and Technology student Trevor Buckingham, a musician who has performed with the Chads, recommended the band for this year's performance.
During this public event, concert attendees agree to be recorded in the audience in photos, video and/or audio for DVD, Internet, television and other promotional materials. The resulting Blu-Ray/DVD will be offered by the band to their fan base, run on cable access channels, and will be used by MWCC in promotional pieces.
"The Wicked Hangin Chads are absolutely thrilled to be working with the faculty and students of Mount Wachusett Community College and we are humbled by the attention and the focus that we are getting," said Rick Chadwick. "We're very thankful and happy to be part of it. The DVD we're going to have as part of this performance is going to be paramount to our promos."