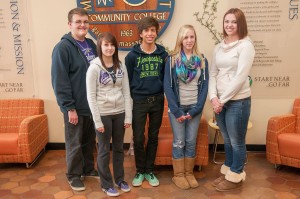 This academic year, five Murdock High School seniors are simultaneously earning their high school diploma and an academic certificate from Mount Wachusett Community College through the Robinson-Broadhurst Foundation Career Tech Scholarship program.
The one-year, full-time dual enrollment program, funded by a generous grant from the foundation, allows Winchendon students to earn academic credentials to enter the workforce or to apply toward an associate or bachelor's degree.
Through this program, now in its second year, students are provided with scholarship funds to begin a trade or technical program in automotive technology, allied health, information technology support or accounting certificate. The Robinson-Broadhurst Foundation grant provides full scholarships for the students.
The scholarship program provides the students with an opportunity to learn a trade that will allow them to enter the labor force once they finish high school or soon after and earn a higher wage than they would with only a high school diploma. This year, all five participants are seeking a certificate in Allied Health. This year's Robinson-Broadhurst Foundation Career Tech Scholars are Dakota Wood, Courtney Paradise, Devan Tenney, Shelby Slemmer and Laura Cosentino.
"We are most grateful to the Robinson-Broadhurst Foundation for their generous and continued support of this initiative to benefit Murdock High School students," said MWCC President Daniel M. Asquino. "This program not only helps students achieve their goal of obtaining a college education without accruing tremendous loan debt, but ultimately supports the economic development of our region by preparing young people with skills they can directly apply in the workforce."
Completion of the program with a high school diploma and a college certificate will allow students to enter the workforce with a marketable skill, increase their lifetime income and provide the opportunity to continue with their higher education.
"The Robinson-Broadhurst program means everything to me. Without it, I wouldn't have had the opportunity to meet new people and experience what independence really means. I joined the program so I could feel my way through what I wanted to do with my life and build a good foundation to pursue my dream," said Deven Tenney.
"I wanted to take advantage of the opportunity to get a year of college done while I was completing my senior year of high school," said Shelby Selmmer. "I knew that I had the chance to earn college credits before I graduated and to get an early start in my college career."
The program is led by Veronica Guay, Director of Dual Enrollment, and Shaunti Phillips, CVTE Transition Counselor, in MWCC's Division of Access & Transition, in partnership with Murdock Guidance Counselors.