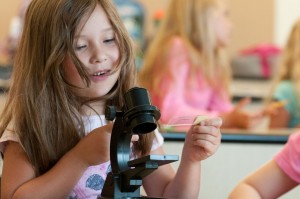 After over 20 years, the American Girl doll phenomenon is still going strong with young girls excited to learn about the background of different dolls and what it was like to live in a different era.
The All American Girl Doll Time Machine was one of many classes offered this summer to children of all ages through Mount Wachusett Community College's Adventure Academy program. In this class, students received an 18-inch doll on the first day of class that is theirs to keep. Each day, they made different crafts for their doll, and explored a new historical era through the stories published by "American Girl." Additionally, each class paired STEAM (science, technology, engineering, arts and math) education with the daily history lesson.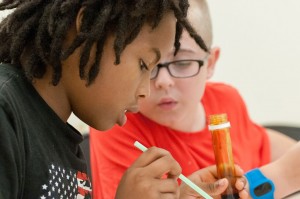 A visit from Mad Science of Western New England provided the group of young girls with interesting experiments correlating with lessons on female scientists, including Nobel-prize winning physicist and chemist Marie Currie, anthropologist and primatologist Jane Goodall, marine biologist Sylvia Earle and chemist and molecular biologist Rosalind Franklin.
Shelby Forhan, a first-time student at the All American Girl Doll Time Machine class, said she enjoyed the program, which she attended with her sister. "The most exciting part of the program was making a TV, clicker, dog, dog bed, and passport for my doll, who I named Riley after my sister," she said.
"This is something great for the girls to enjoy," said Academic Adventure teacher Ashley Chicoine. "I had an American Girl doll when I was younger, so I thought this would be perfect. The girls get to make different crafts for the dolls each day. At the end of each class they do approximately 15 minutes of independent reading on a book about one of the American Girl dolls so they can learn more about the American Girl and their background."
Nearly 800 teenagers and children throughout the region have participated in MWCC's annual  Adventure Academy, which offered more than 30 classes and sports programs including Mine Craft, Legos, Hogwarts School of Wizardry, Beginning Veterinary Medicine, drama classes, pottery, basketball, soccer, martial arts and tennis. A majority of the classes are taught by area elementary school teachers on summer break and incorporate lessons in STEM and STEAM education. The program also includes a full lunch and all supplies and materials.
This year, 10 scholarships were given to students through Day Camp Dreamin' which serves nine North Quabbin towns.
"Through Academic Adventure, we really strive to get both genders into the STEM fields," said Dawn Gilliatt of MWCC's Division of Lifelong Learning and Workforce Development.  "Not many summer programs offer history incorporated with STEM activities."
-Katherine Best