GARDNER  Like many of the 785 graduates on Wednesday night, Mount Wachusett Community College presented a second chance for student speaker Yasmine Kanaan.
"Five years ago, I thought I knew who I was and what path I wanted to take and who I wanted to become," Ms. Kanaan said. "I soon lost my passion, my focus, and myself, and believed I would never be able to achieve a bright future."
Soon after that, she was diagnosed with depression and anxiety. Two years ago, she decided she was ready to put her life together and enrolled at the Mount.
"Here, I learned that it is not about how hard you fall, but about how hard you work to stand back up. You see, the thing
about this college is, when no one else opens their doors to give you a second chance at an education, MWCC does," said Ms. Kanaan, who received her associates degree in business. "They see the potential in all of us and, in doing so them, empower us."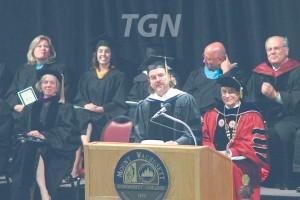 Identity, empowerment and the future were the central themes of the college's 50th commencement celebration.
That theme was underlined by Alumnus of the Year and keynote speaker Kevin Berg, a CBS network executive — responsible for television shows like "NCIS," "Criminal Minds," "Survivor," "The Amazing Race," "America's Next Top Model," "Hawaii Five-0," "The Good Wife" and many others — who started his professional life in a Gardner chair factory.
"I stood for 10 hours a day outside of the lacquer oven and sanded the dried lacquer chips off the bottoms of hardwood chairs," Mr. Berg told the crowd. "It was then I decided to return to school and greatly improve my chances in the world."
For Mr. Berg, the Mount Wachusett campus — particularly the in-house radio station where be broke Prince records — paved the way to internships and his career. It was also where he learned the power of choice.
"Life is a series of options we confront every single day. The option you choose today will determine your future and set you on your life's course," he said. "Each and every one of you will be embarking on a completely different path, some windy and curvy with roadblocks that seem impossible to maneuver, others will be full-speed ahead straight, clear, no bumps in the road. The type of path to your destination is not yours to choose. However, it is your to navigate."
As the graduates move forward with their lives, he urged them to make decisions deliberately — knowing what they want 10 years from now and to continually ask themselves what it will take to get there.
Mr. Berg was presented with an honorary doctorate in the humanities, his first degree from MWCC. "I have to believe I am probably the only person to receive both their degree and alumnus of the year at the same evening," he said.
Also at the ceremony: student trustee Phillip M. Stan received the Trustees' Award; Bryce Bodley-Gomes of Ashburnham and Cindy Caron of Jaffrey, N.H., received President's Keys; John Day of Gardner was presented with the Dean's Key — and a new signature baseball cap with a tassel.
MWCC President Dan Asquino presented James Garrison — the namesake and benefactor of the Garrison Center for Early Childhood Education and Early Childhood Education scholarships — with the 2015 Service Above Self Award, as well as an honorary doctorate in humane letters.
"His philanthropic endeavors have resulted in countless improvements and changes to MWCC that have enhanced the learning environment for college students and children and the vital role the college plays in the community," Mr. Asquino said.
Five retiring professors were awarded emeritus status: Joel Anderson, media arts and technology; Paul Laverty, mathematics; John McNally, health sciences, fitness and wellness; Elena Natalizia, criminal justice; and John Reilly, business administration.
(Katie Landeck, The Gardner News, May 21, 2015)