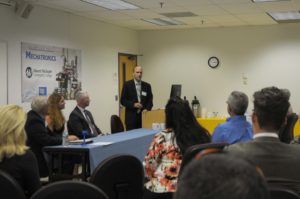 Executive Office of Labor and Workforce Development Secretary Rosalin Acosta joined Senior Vice President of Devens Thatcher Kezer III for a tour of Devens during Manufacturing Week that culminated in a discussion with local business leaders at MWCC's Devens campus, which was facilitated by Mount Wachusett Community College President James Vander Hooven.
During the meeting, Acosta, Kezer and Vander Hooven discussed manufacturing opportunities and concerns with the gathered manufacturing and business leaders. Acosta talked about holistic approaches to ensure there is a pipeline from early education up to employment in the Commonwealth's clean, modern manufacturing jobs. The Baker administration is currently working to assess and address the demands of the different regions of Massachusetts, she told the group.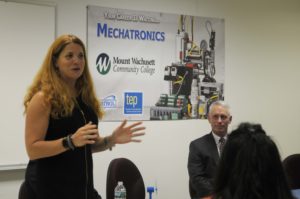 The tour of manufacturing facilities and discussion at MWCC's campus was part of Manufacturing Week events at Devens. Additional events will include a tour of three Devens manufacturers on Friday, Oct. 6 by students from Fitchburg High School.
MWCC's Devens location contains a number of the college's STEM courses and labs such as health sciences and manufacturing. The Devens campus has over $1.2 million in advanced manufacturing equipment, allowing the location to offer training that translates directly to business needs. Adult Basic Education courses, workforce courses, and a variety of noncredit courses are also offered at the Devens location. MWCC's presence at Devens can be traced back to 1966, when Fort Devens was an active U.S. Army base and the college offered 16 courses at the site.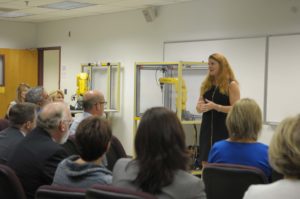 Devens is a 4,400-acre self-contained community that hosts world-class high-technology companies. Devens has a carefully planned environment where businesses and residents alike can draw strength from each other and prosper.