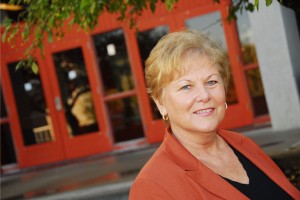 Sharyn Rice, Senior Vice President of Access, Transition, and Development, is a recipient of the Worcester Business Journal's 2012 Outstanding Women in Business Award. The award was announced Oct. 29 and this year's six recipients will be recognized during a Nov. 16 luncheon at Tuckerman Hall in Worcester, hosted by the publication.
She was recognized for her leadership throughout 35 years in the field of education. Her career has been built around her passion for education, beginning in 1977 when she served as Director of Education at the Protestant Youth Center in Baldwinville, (now known as College Hill Academy, run by Y.O.U. Inc.). She went on to work for 10 years as a guidance counselor and special education teacher at Tahanto Regional High School in Boylston and at West Boylston High School.
In 1988, she joined MWCC as a diagnostic developmental specialist and adjunct faculty member, teaching students with learning disabilities and special needs. Since that time, she has served the college in a variety of roles, including assistant dean of training at Shriver Job Corps, vice president of community and foundation development, and as senior vice president of advancement and external affairs, before being named senior vice president of access, transition and development in March 2012.
In her new role, Ms. Rice manages more than 90 people and oversees a number of state and federally funded programs that provide access to transitional curriculum for high school students. Her responsibilities also include new funding development, strategic planning, and management of all MWCC high school/college credit course offerings. She also maintains collaborative relationships with 14 partnering public schools, many organizations, and state and federal programs.
Ms. Rice serves on numerous boards and committees including: conference chair for the Massachusetts Educational Opportunity Association; Legislative Coordinator for the National Council of Educational Opportunity Associations; co-founder of the Team for Services for Students with Disabilities, an initiative that creates accessible environments, programs, and resources for students with disabilities; and National Conference Steering Committee Member of AHEAD (Association on Higher Education And Disability), a professional membership organization for individuals involved in the development of policy and in the provision of quality services to meet the needs of persons with disabilities in all areas of higher education. She serves on the governance committee of RCAP Solutions, and previously served as chair of the nonprofit organization's board.
Most recently, she has volunteered for the Gardner Visiting Nurses Association and served as coordinator and co-chair for "Voices for Change," a conference launched as a strategic alliance between Mount Wachusett Community College, the SHINE Initiative, and 14 other mental health stakeholder organizations.
Her passion for education has also made her a strong mentor many, and she also has supported the local business community through her active involvement in many of the Chambers of Commerce in the region.
"Sharyn is a fantastic ambassador for the college," said MWCC President Daniel M. Asquino. "In her many years at the college and in her numerous roles, she has done much to advance the mission of Mount Wachusett Community College and is truly a go-to person."
She earned her bachelor's degree in Elementary Education and Special Needs from Fitchburg State College and received her master's degree in Counseling Psychology from Anna Maria College. She also received a Certificate in Advanced Graduate Study in Higher Education Administration from the University of Massachusetts.