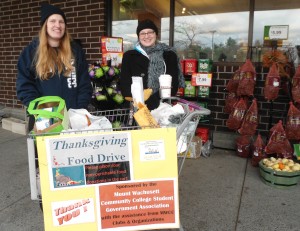 The Student Government Association's Annual Thanksgiving Food Drive this fall is providing 56 boxes of food for MWCC students in need, as well as a $20 Stop & Shop gift card for each of the 56 recipients to purchase a turkey, produce and other perishable items.
Additional food collected during the drive will be donated to the Gardner Community Action Council food pantry.
Pictured: Christina Wiggins, left, chair of the SGA Annual Thanksgiving Food Drive and Bridgette Woodcock, SGA president, collected donations at Stop and Shop on Nov. 2. The SGA also collected donations at the college.